When Quế Ngọc Hải received the captain's armband for the Viet Nam national team in January doubts were raised about his abilities and temperament.
By Thanh Hà
Up to that point, Hải's career had been up and down and littered with costly mistakes and aggressive play.
However, since then he has proved himself more than worthy of leading his country team.
Born in 1993 in Nghệ An Province, Hải was trained at Sông Lam Nghệ An FC's centre, one of the nation's top football training hubs.
The little boy quickly secured his berth in the junior and then senior squads. His aggressive style and strong physique also quickly made Hải one of the V.League 1's most carded players.
He was also a mainstay of the national youth sites and at the age of 21 he became skipper of the U23 team under Japanese coach Toshyia Miura for the 28th Southeast Asian Games in 2015.
He also earned a berth in the national team and competed in the AFF Cup in 2014 and 2016.
This was when the troubles truly began for Nghệ An's most talented defender.
After winning 2-1 over Malaysia in the 2014 AFF Cup's semi-final first leg, Việt Nam headed to the second leg in command.
However the match was a nightmare for not only Hải, but also Vietnamese football.
Hải and some other teammates made poor mistakes and gifted four goals to the Malaysians, who eventually won 5-4 on aggregate and advanced to the final.
In the 28th SEA Games 2015, Hải, leading the U23 team, collapsed when his team lost 2-1 in the semi-finals to Myanmar, a team Việt Nam should have beaten.
A year later, also in the AFF Cup's semis, Hải was the main reason Việt Nam conceded two goals in their 2-1 loss to Indonesia.
In the second leg, again on home turf, Hải was forced into a spell as goalkeeper after goalie Trần Nguyên Mạnh was sent off and Việt Nam had used all their substitutions.
The match ended 2-2 and Việt Nam were knocked out 4-3 on aggregate.
Hải cried after all these matches and he suffered harsh criticism, with some even suggested match fixing might have been a factor.
But his lowest point was a horrific sliding tackle in a V.League 1 match between Nghệ An and Đà Nẵng in 2015, which left Đà Nẵng midfielder Trần Anh Khoa with a serious knee ligament injury.
Hải was banned for six months and asked to pay more than VNĐ800 million (US$34,400) for medical bills for Khoa, who was forced to retire at the age of 24.
The 22-year-old Hải received abusive messages and could only pay half of the bill.
At his lowest point, Hải was supported by Đoàn Nguyên Đức, owner of Hoàng Anh Gia Lai FC.
Đức is a hard-minded businessman who strongly opposes violent play in football, but he saw another side of Hải and paid the other half of the bill.
"Hải was a different case. He was talented and still young. We had to give him a chance. If we could wake him up he would change, and now we have seen a totally different Hải," Đức said recently.
"I have had an opportunity to see him in person and say 'thank you'," Hải said.
"It was my mistake I had to take responsibility for. If he did not help in my darkest days, I would not be who I am today. He made me understand my responsibility to my family, my profession and society. I will remember that forever," Hải said.
"I am glad that Hải has grown up. He is now a good player, a key man of the team, contributing a lot to our football. It is not important to say 'thanks' to me," Đức said.
Hải learned from the incident and began to control his playing style, which he revealed in an interview that Việt Nam national team coach Park Hang-seo was not a fan of.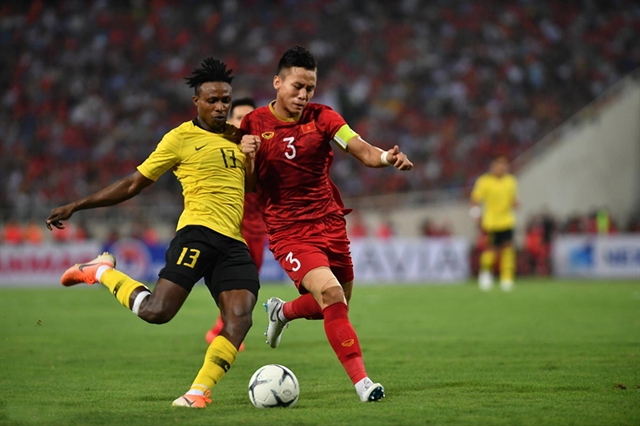 Quế Ngọc Hải (right) vies for a ball against Malaysian midfielder Mohamadou Sumareh during their AFF Cup final last December, Photo zing.vn
"Park and his assistant Lee watched many of my games and they both said I had good technique but in some moments I was like a mad man in terms of attitude, gesture and tackles. Park said I was a good player but could not control myself sometimes," said Hải, who moved to Viettel since January.
It took him a long time to win Park's trust but he was eventually called back to the national team for the AFF Cup 2018 and since then has played a crucial part in the side.
"I was waiting for a call but it did not come. And when it happened it felt like I had won the lottery. It was much more exciting than my first time with the team," said Hải who was reminded about his style in his first day under Park.
"Park kept advising me in every game. I understood that it was really a problem and I needed to change," he said.
Hải was deputy captain of the team through the campaign but he regularly took the captain's armband as skipper Nguyễn Văn Quyết rarely earned a berth in the team.
Leaving his mistakes in the past, Hải and his teammates Trần Đình Trọng and Đỗ Duy Mạnh made up a strong wall in front of Đặng Văn Lâm's net.
Việt Nam won their second title in a decade as the team had the tournament's stingiest defence.
"Hải has showed his great progress in technique and style," said former national team midfielder Vũ Như Thành after watching Việt Nam's AFF Cup triumph.
"He remains focused and aware while under intense pressure during games. Hải now still plays aggressively but is determined and he knows how to make tackles without fouling. He is also one of best penalty scorers from a defensive position."
Hải was captain for the Asian Cup in January, where Việt Nam beat Jordan to advance to the quarter-finals, the King's Cup in June where Việt Nam finished second, and the recent 2022 World Cup qualifiers.
"Hải has grown up. He is a skillful player with the abilities of a leader who can manage the defence well and start attacks. I see him as a mentally and physically strong player, a good communicator, and link between team and coaches. He is a perfect captain for the team," Thành said.
Hải and his teammates are in their final preparations for their clashes for World Cup qualifiers later this month, and you wouldn't bet against Hải leading them to the next round. VNS