QUẢNG NAM — The owners of 44 hotels, homestays, villas and restaurants as well as travel agencies in the central province of Quảng Nam have agreed to take action to reduce the plastic waste their businesses release into the environment.
Công Thành
The 'Zero plastic waste tourism' campaign was promoted at a conference in the province's Hội An City earlier this week with the participation of 200 representatives of NGOs, UNESCO and businesses.
Recycled paper, bamboo and wood are used to produce non-plastic products. — VNS Photo Lan Anh
As well as boosting communications on plastic waste, some members of the Quảng Nam provincial tourism association (QTA) have applied their own solutions to reduce and recycle waste and plastic waste in restaurants and hotel kitchens.
Vũ Thị Mỹ Hạnh, manager of the An Nhiên Farm, a member of QTA, said Field restaurant in Hội An has begun recycling organic waste from the kitchen to reduce daily waste released into the environment by 10kg to 15kg. Meanwhile, organic waste is recycled into 30kg of materials to create chemical-free dish-washing liquid at the restaurant each month.
Hạnh said Sapo – a natural handmade soap firm in Hội An – alone has recycled 300 litres of used-cooking oil to produce chemical-free kitchen soap over the last five years.
"We have collected and recycled 300kg of single-use soap at hotels and resorts into usable soaps for poor people, while 1.5 tonnes of old mattress covers have been used to make school uniforms for poor children and curtains at health centres in remote mountainous areas since 2018," Hạnh said.
"Refillable Hội An, the first refillable concept store in Hội An, has helped local residents re-use 2,600 containers by refilling empty plastic bottles of washing liquid with environmentally-friendly detergent or washing liquid," Hạnh said.
"This means thousands of plastic bottles and containers will not be sent to dumps if consumers are aware of environmental protection."
Hạnh said waste should be classified at its source in restaurant kitchens and homes, and actions must be taken by vendors, businesses, restaurants, schools and hospitals.
Hội An has been dubbed the first locality in Việt Nam to launch the 3-R waste classification (reduce, re-use and recycle) from 2002.
Trends
Trần Việt Thùy from Pacific World Travel, a member of TUI Tours, said 80 per cent of MICE (Meeting, Incentives, Conference and Exhibition) tour customers requested plastic and waste-free accommodations and transport vehicles as well as tour services.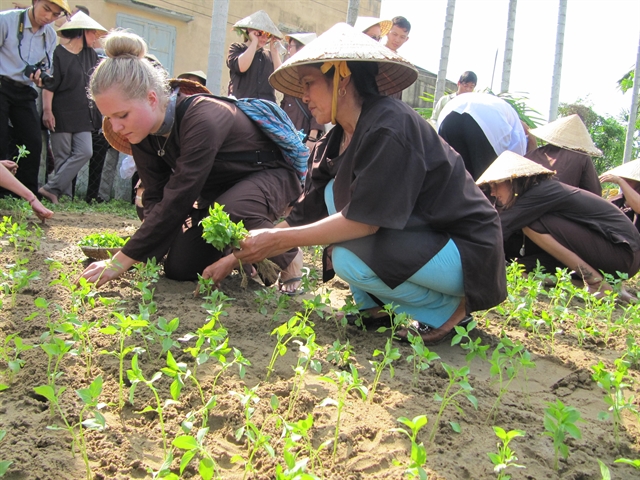 Tourists enjoy a farm tour in Quảng Nam Province. Rural experience tours have helped promote sustainable tourism in the province. — VNS Photo Công Thành  
"Our customers have a high request on environmental protection manners and nature experience activities rather than luxury service at five-star hotels. They love having meals in rural scenery in paddy fields, or joining environmentally-friendly activities," Thùy said.
"Saying no to plastic has become a new trend in luxury segment of our service. They would pay from US$700 to $1,000 for service fees, provided there is no plastic waste or activities harmful to the environment," she said, adding Hội An has been a top site among her customers.
However, she said few local service suppliers could reach these standards.
Peter Debrine, programme specialist at the UNESCO World Heritage centre in Paris, said the participation of small-medium-sized enterprises (SMEs) in the campaign of water reduction for sustainable development is very important.
"SMEs play a crucial role in sustainable development, and eco-tourism needs equality treatment policy, transparency land-use plan and participation chances at seminars or workshop," he said.
He said Việt Nam has a big chance to boost sustainable tourism, and Quảng Nam can't develop tourism without promoting sustainable tourism.
Vice chairman of the provincial people's committee Lê Trí Thanh said the province's tourism sector has enjoyed 25 per cent annual growth in the course of 20 years, but the locality faces increasing problems, including waste management.
He said the province hosted 6.5 million tourists in 2018 and hopes to receive 8 million in 2020, but waste reduction habits have yet to change among local service suppliers and the community.
"The province releases 240,000 tonnes of waste, of which 25 per cent is plastic waste, per year, while classification is not well done. The increasing number of tourists in the coming years will speed up challenges for the provincial tourism industry," he said.
Thanh said the province has encouraged businesses to reduce waste by seeking environmentally-friendly materials instead of single-use items.
The local school curriculum now include lessons on reducing plastic use, he added.
Tôn Nữ Thị Ninh, a diplomat, said plastic waste reduction needs an upstream approach.
She said plastic producers should be aware of that because consumers sometimes have few other options than using plastic products.
Hà Thanh Hải, manager of West Lake Hotel & Resort, mentioned some of the changes his hotel has made to reduce plastic waste.
He said the resort has replaced plastic bottles with glass, sending 300kg less plastic waste to dumps each month.
"We also use paper straws instead of plastic straws or spoons. Our staff try to persuade customers not to use plastic straws or spoons," Hải said.
"The change did not cost so much. Glass bottles can be re-used for longer, while paper straws can be recycled. Even though paper straws cost eight times as much as plastic, our non-plastic manner earns a positive response from customers and helps our brand," he explained.
Hải said his resort did not use foam or plastic packages, while disposable bathroom wares were all replaced by environmentally-friendly products.
Phạm Lệ Chi, from Kiên Hùng handicrafts company, said she has been seeking natural material including bamboo, rattan or leaves from ethnic groups to supply material for handmade bags.
She said the production will help local community improve their income and reduce non-decomposing waste.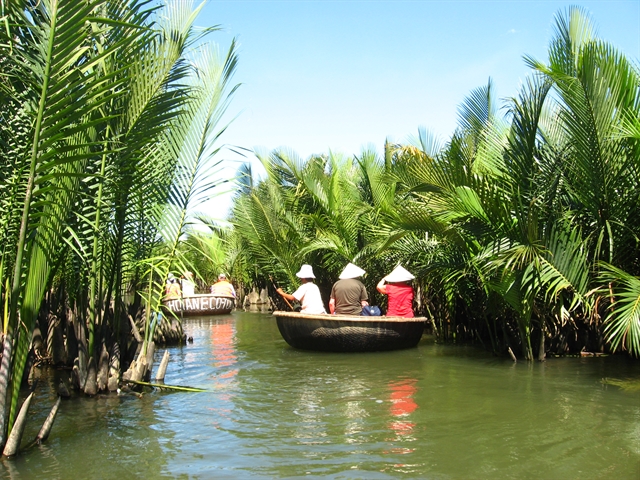 Tourists explore a nipa palm forest in Cẩm Thanh Commune of Hội An City. Tourists were invited to clean rubbish from the river or grow more trees in the forest. — VNS Photo Đăng Khoa
Some companies in Hội An have been producing straws, containers and souvenirs from bamboo and reed, while citizens have been encouraged to bring reusable bags to markets instead of taking plastic bags from sellers. — VNS