Bùi Thị Vân, 62, and her family has lived in a thatched roof brick cottage in the Cỏ fishing village for 27 years.
By Công Thành 
Where once it was just a place for the five-child family, since last month the cottage in Phổ Thạnh Commune has hosted tourists visiting the village, a core zone of Sa Huỳnh Culture and Chăm culture in Lý Sơn-Sa Huỳnh Geopark.
The house made of brick and bamboo is a typical example of the old architecture of the fishing village that residents have preserved from 1,000 years ago.
Vân has also joined the village's musical and cooking team as part of the new community-based eco-tour in the underprivileged village of the central province of Quảng Ngãi.
The woman has also made traditional musical instruments like monochord, two-chord fiddle and two-chord guitar from old wooden mortars, badminton rackets, fishing nets and wooden beams to play bài chòi (folk singing) and hát hố (local love duet) songs.
MANY TALENTS: Bùi Thị Vân, 62, shows a musical instrument she recycled from an old badminton racket. Vân, a villager of Cỏ Village, is also an amateur composer of traditional folksong. VNS Photo Công Thành
The villagers themselves established the community-based tourism co-operative with the participation of partners from the private sector and State-owed agencies to make money from local culture.
"Us villagers have been living in poor conditions, but we still preserve the lifestyle and hospitality from generations ago," Vân said.
"Many daily lifestyle activities and local foods can now be introduced to visitors as unique products of our village. Most women in the village cook and sing very well."
Land of treasure
Surrounded by four mountains – Gành, Ông Tàu, Trụ Bồ and Bà Quách – the ancient village is naturally protected by the mountains and a downhill valley from natural disasters.
Vestiges of Chăm, also known as Champa culture, were excavated 100 years ago by French archaeologists and then Vietnamese researchers in the late 1970s.
Grave jars of the Sa Huỳnh Culture (1000 BC – AD 200) and steles of Chăm people were found in the area, while cliff rocks running to the sea were from ancient dormant volcanoes.
Twelve water wells and stone steles left from the Champa Kingdom were also found here.
Researcher Đoàn Ngọc Khôi said: "They (people of the Sa Huỳnh culture) built their houses in the middle of mountains for easy protection from natural disasters and enemies. Their settlement was related closely to fishing and hill farming and fishing – the lifestyle has been preserved from past centuries."
Cỏ Village, or Gò Cỏ, just 2km away from National Highway 1A, is home to nearly 300 people, 80 per cent of whom are old people earning a living from inshore fishing and farming.
Villagers mostly still live from farming and fishing as their forefathers have for years.
Phạm Mười, 67, has been fishing since he was a teenager, and still paddles out to sea in his small boat without an engine.
Mười, who was a local guerrilla during the anti-American war, said he retired from working on an offshore fishing vessel years ago, but still fishes with a small boat every day.
"I still earn my living from fishing. I leave home at 3am and return at dawn. I can earn between VNĐ300,000 (US$13) and VNĐ500,000 ($22) from each day's catch, but some days I make nothing," Mười said.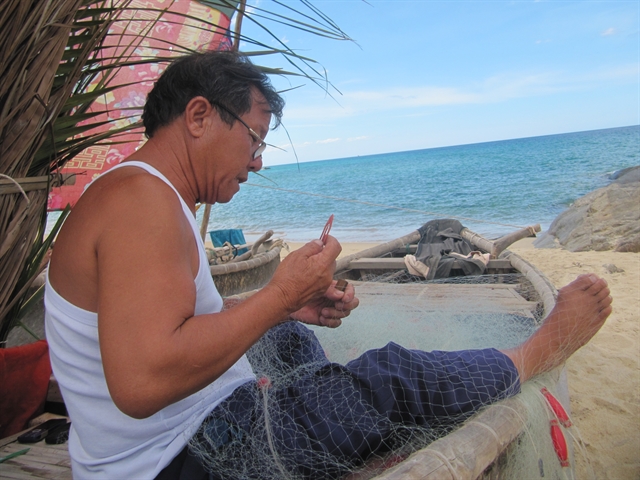 STILL AT IT: Phạm Mười, 67, still makes his living from fishing at sea off Cỏ Village in Quảng Ngãi Province. VNS Photo Công Thành
"I leave my boat at the shore during the rainy season that often lasts from August to December, and farm for a living," he said, adding that he had no pension.
"Local villagers sometimes find labour-intensive jobs from masonry, working in salt fields or harvesting at hill farms for odd money."
Community business
Đoàn Sung, director of Đoàn Ánh Dương investment development joint-stock company, said the village would be promoted as heritage due to its links to the Sa Huỳnh culture and Champa culture.
However, the cultural value of the village has yet to be tapped to boost community-based tourism and improve locals' lives.
A community-based eco-tour service model, which involves shareholders from businesses, the community, state agencies and the local administration, has been running at Cỏ Village since last month.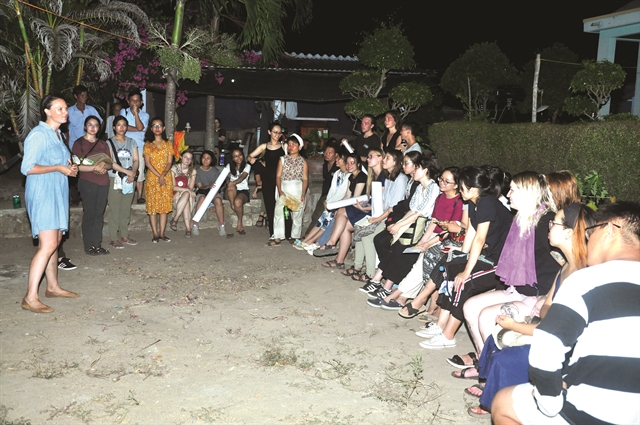 COMMUNITY: Foreign students hang out with locals at a night gala. VNS Photo Công Thành
A group of 32 families joined a joint-stock business with the Đoàn Ánh Dương company (private sector), the management board of Lý Sơn-Sa Huỳnh Geo-Park and the local administration (state agencies).
Nguyễn Thị Diễm Kiều, a member of Lý Sơn-Sa Huỳnh Geo-Park and the community-based tourism co-operative, said the tourism service in the village both promotes the cultural value of the area and improves the lives of local inhabitants.
Kiều said villagers have acknowledged the global geo-park's value and traditional culture as priceless treasure, but they do not know how to promote the heritage.
"The generations-preserved lifestyle and habitat is itself a treasure amid rapid urbanisation. Villagers still preserve an ancient way of life, self-produced farming and friendly neighbourhood treatment in a time that this is rarely seen in rural areas."   
Two years ago, toilets weren't available in the village, but sanitary facilities are now available among 80 per cent of the households. They are now ready for tourists, according to Kiều.
Support
In an introduction on the village, Guy Martini, general secretary of the Global Geoparks Network and chairperson of the UNESCO Global Geoparks Council wrote:
"The inhabitants of Gò Cỏ are old (80 per cent). The children went to the city to try to make a living. The villagers are fishermen-farmers practising artisanal fishing and small food crops (pineapple, potato). They are still building their own bamboo boats. Some women produce nets and fillet traps sold in nearby markets. Gò Cỏ village is in the perimeter of a UNESCO Geopark project (Lý Sơn – Sa Huỳnh Geopark) carried by the province which should apply by the end of 2019.
"Thanks to this UNESCO Geopark project, the villagers of Gò Cỏ wanted to invest in the project and created a co-operative to develop their village in a sustainable way by offering a respectful and intelligent tourism. In their vision for the future, villagers know clearly what they want and what they do not want. They create the co-operative not to 'earn more money' but so that their children can return to the village and make a living here. The village and the region are part of the Bài Chòi region, which is a form of spoken song, classified by UNESCO as an Intangible Heritage of Humanity."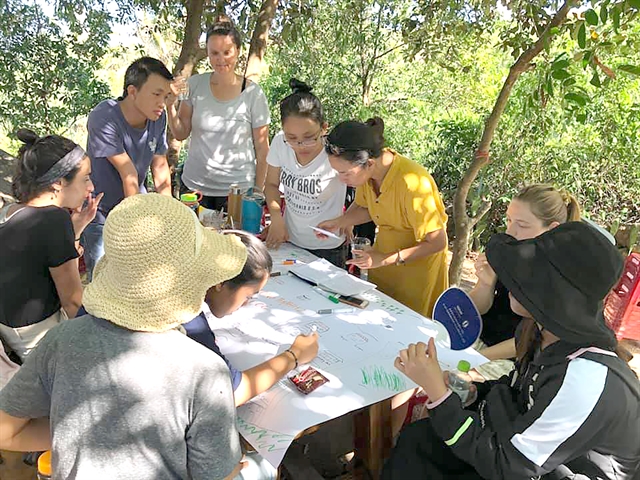 GET INVOLVED: Vietnamese and foreign students join an outdoor class and field survey on culture and lifestyle at Cỏ Village in Phổ Thạnh Commune of Quảng Ngãi Province. VNS Photo Công Thành
Martini has called for support from the worldwide community and sponsors to help villagers build tourism in the village.
Cỏ Village is included in the 4,600sq.km Lý Sơn Sa Huỳnh Geo-Park area, covering a land and sea area of nine districts of Tây Trà, Trà Bồng, Bình Sơn, Sơn Tịnh, Tư Nghĩa, Mộ Đức, Đức Phổ, and Quảng Ngãi City and Lý Sơn Islands. VNS