HÀ NỘI — Midfielder Nguyễn Quang Hải took the Best Player title at the 2019 V.League 1 2019 Awards which were held yesterday in Hà Nội.
Hải maintained his peak throughout the whole season, playing a key role in helping his club Hà Nội FC win double trophies this season.
Hải, who claimed the Best Young Player title last year, had a remarkable performance this year to win over other title candidates such as his teammate Nguyễn Văn Quyết and striker Nguyễn Văn Toàn of Hoàng Anh Gia Lai.
He is also one of the nominees for the Golden Ball this year, which will be voted on after the Southeast Asian Games in the Philippines later this month.
The Best Young Player award went to Đoàn Văn Hậu, who used to be a member of Hà Nội FC. Hậu, 20, moved to play for Dutch SC Heerenveen for two months. But his outstanding performance previously was enough to help him win the title.
The Best Scorer went to Hà Nội's Pape Omar Faye and Viettel's Bruno Catanhede, who netted 15 times each.
Midfielder Nghiêm Xuân Tú of Quảng Ninh was honoured with Best Goal of The Season.
His curving shot from 25 metres out into Sài Gòn FC's net in August went over all the hosts' defenders and beat the goalkeeper.
HCM City did not win the V.League 1 title this year but their South Korean Chung Hae-seong was voted Best Coach. Chung is currently on vacation in his home town, so was not on stage yesterday.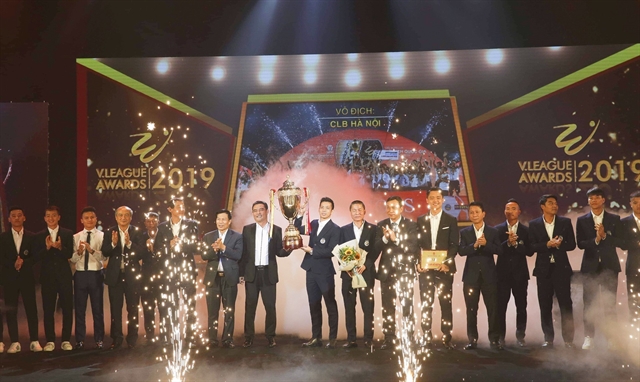 CHAMPS: Hà Nội FC receive their national premier league trophy at the V.League 1 Awards yesterday. VNA/VNS Photo Trọng Đạt
The organisers yesterday also introduced the best XI of the national premier league tournament. They were four players from champions Hà Nội, two each from Sông Lam Nghệ An and Hoàng Anh Gia Lai, and one each from Quảng Ninh, Viettel and HCM City.  
Players and coach of the V.League 2 tournament were also honoured with the same awards yesterday.
Apart from players and coaches, the organisers also presented awards to Best Referee Hoàng Ngọc Hà and Best Referee Assistant Phạm Mạnh Long.
"The V.League Awards is an annual event held after the end of the local league. It was one of the activities to respect the work and contributions of footballers and staff through the season," said Trần Anh Tú, general director of the Việt Nam Professional Football Company which manages these events.
"It is expected to be a strong push for players and managers to strive better in their career. Through that they would be an important pool for the national squads," he said.
This year, Hà Nội won the V.League 1 for the fifth time. They also took home the National Cup trophy, the only title they had not won before.
The V.League 2 winners were Hồng Lĩnh Hà Tĩnh with their outstanding performance, setting a record of 53 points after 20 matches. They won the tournament with two matches to spare an earned a berth to compete at the V.League in 2020. VNS