HÀ NỘI — A team of officials from Japan will referee the upcoming clash between Việt Nam and the United Arab Emirates (UAE) in their World Cup 2020 qualifier at Hà Nội's Mỹ Đình Stadium on November 14, the Asian Football Confederation (AFC) has announced.
Jumpei Iida will be the match referee.
Iida is a familiar face to many Vietnamese football fans having previously taken charge of Việt Nam's 1-0 victory against Thailand in the King's Cup in June this year.
In addition, the Japanese referee also took charge of Hà Nội FC's fixture against Thanh Hóa in the V.League 1 in 2017.
Having first qualified as a FIFA referee in 2011, Iida has gained plenty of experience at Asian tournaments, including the AFC Champions League, the Asian Cup, and several World Cup 2018 qualifiers in the Asian region.
The AFC also announced that, following the UAE tie, a team of referees from Oman has been appointed to officiate Viet Nam's clash with Thailand. The crunch match will take place at Mỹ Đình on November 19 with Ahmed Al-Kaf serving as match referee.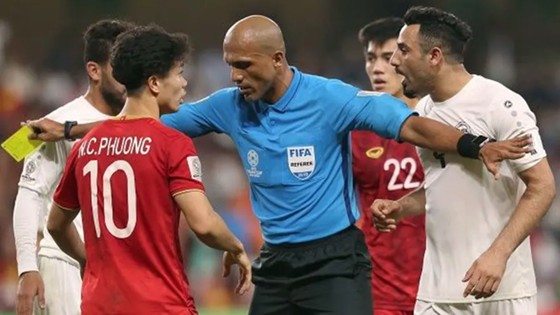 Referee Ahmed Al-Kaf (centre). — Photo AFC
Al-Kaf took charge of two games involving the Vietnamese team at the AFC U23 Championship 2018 finals, including the game against Syria in the group stages and Uzbekistan in the finals.
At the Asian Cup 2019 finals, Al-Kaf was referee as Việt Nam beat Yemen 2-0. — VNS
Vietnamese midfielder Nguyễn Quang Hải won the men's AFF Player of the Year, while his coach S Korean Park Hang-seo won men's Coach of the Year.
"I'd like to say thanks to my coaching staff, teammates and fans. This prestigious award will be a big motivation for me to strive for even greater achievements in the future," said the 22-year-old Hải. 
Park, who led Việt Nam national men's squads to lift the trophy at the AFF Cup 2018, AFC U-23 Championship final and Asian Cup 2019 semi-final, said his award reflected the efforts of his players and each and member of his team. 
"I want to say thanks to the Vietnamese fans. They have been the source of motivation that got us to where we are today," said Park at the ceremony.
Vietnamese players were also included in the AFF Best XI at the AFF Suzuki Cup 2018: midfielder Nguyễn Quang Hải, defender Quế Ngọc Hải and keeper Đặng Văn Lâm. 
Trần Văn Vũ was named Futsal Player of the Year, but the Vietnamese squad lost out to their rivals Thailand, who won Futsal Team of the Year for the second consecutive year. 
Pitsamai Sornsai of Thailand won women's AFF Player of the Year 2018, while Suphanat Muenta, also from Thailand, won Young Player of the Year. The Thai women's team were also named National Team of the Year along with their coach Nuengruetai Srathongvian. — VNS