By Mỹ Hà
When you choose a place to meet friends, the type of food and style of restaurant are usually the deciding factors. We're meeting up with an old family friend, who lives in France, but his son has decided to settle in HCM City, where his grandparents were from. 
The language switches from Vietnamese to English, when we really want the young man to understand what we're talking about. We speak Vietnamese to the father, so he in turn switches to French trying to explain to his son. The conversation sounds international, but the food is truly Vietnamese.
A quick web search gave us some great reviews and a few bad ones concerning the ingredients and service. When we arrived, I was in awe of the spectacular orchid garden in full bloom. The flowers were of all colours – purple, blue, white, pink and orange. It was the manager's hobby, so we took in the blooms as we waited for our order to arrive.
The first course was the restaurant's signature dish: bánh khọt (fried shrimp cakes, VNĐ110,000). This is a special southern street food, but at this restaurant, the chef has a unique recipe to make it crispier outside and buttery inside. 
Next came fried tofu with dried shredded pork strips on top – đậu phụ chà bông (VNĐ85,000 ). The ingredients are familiar, but I never had them together. It was good but not remarkably impressive. 
Our friends recalled their time living in the city before they left to settle in France. The father of the family was a high-ranking government official, who in his younger years had to be stationed in Hà Nội, while the whole family lived in the south. His wife then learned that he met someone while away. She boarded a plane with a pistol in her hand. Her ultimatum was: family or nothing. The man finally decided to break up and returned to reunite with his family. Until he died many years later, the matter was never brought up and he never dared to have a fling, ever again.
ROCK AND ROLL: Bánh hỏi & nem lụi, angel hair vermicelli buns served with roasted shrimp paste on lemongrass. VNS Photo Mỹ Hà
Our friend was telling his son about this as a reminder that his family sticks together thanks to the determination of his grandmother. As a woman, I thought she was brave to do what she did, and admire her for that. In decisive moments, I believe women need to be strong, assertive and get their message across. Now it's illegal to own a weapon, but if you know what's important for your family, you'll find your own way to deliver the message. 
Next came a lovely southern dish, angel hair vermicelli wrapped into little buns (VNĐ 100,000) with roasted shrimp paste on lemongrass dipped in fish sauce. This dish requires some handiwork as you have to wrap the noodles, meat and veggies in rice paper. Fresh and delicious, it was a treat for everybody.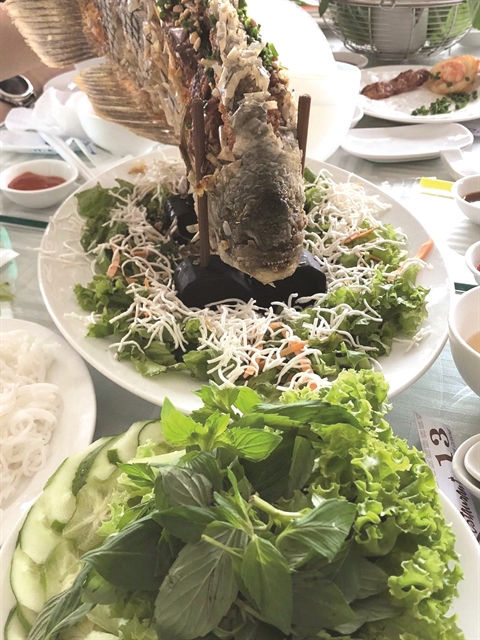 MASTERPIECE: Swimming roasted carp on veggie bed, the show stopper. VNS Photo Mỹ Hà
The main course was a deep-fried tai tượng fish (VNĐ410,000). The fish must literally swim in boiling oil to get all the scales crispy. And it also came to the table in a grand manner, as if it was still swimming on the plate. 
Our friend, a western-trained engineer, who has lived abroad most of his life and now runs a multinational company with a branch in the city, is always Vietnamese at heart. He treats himself to the carp's head, which is considered the best part and we love to see it every time we meet him. 
In Vietnamese culture, if someone shows hesitation, or struggles to be a guest, we think they are not fully earnest. It doesn't mean they have something to hide, but we cannot be close and frank. But if someone enjoys the food on the table and shows it, then we believe they are very earnest. 
The harsh climate and strict culture of the north teach residents to be reserved and not express themselves too much. But the mild climate, bountiful sources of food and fruit make southerners the best hosts you can ever have. They treat you with their heart and warmth. All you have to do is dive in, and of course, compliment on what you had. 
Such will always be Sài Gòn and its welcoming spirit. Whenever you feel blue and down, failed and tired, try to find your way down to the side of River Sài Gòn to bathe yourself in the fresh wind, which will eventually wipe away bad feelings and help you start everything fresh again. VNS