There are hundreds of stilt houses in Việt Nam, but the 14 in Khuổi Kỷ Village in the northern province of Cao Bằng are some of the most special.
Bảo Hoa
The 500-year-old homes are all built from stone, an important part of the Tày ethnic minority's belief system.
It is a traditional Tày belief that people were born from stones and become stones when they die.
"People here have been living near a stone valley, so stone has become a familiar material to their lives," said Đàm Văn Vũ, vice chairman of Trùng Khánh District, where the village is located.
"As you can see here we have stone pestles and mortars, stone fences, stone walls, even household furniture like chairs are also made of stones."
For the last year, villagers have been taking advantage of their unique houses to offer community-based tourism services.
Visitors can book online to stay at the stone houses and enjoy Tày cuisine.
The two-storey establishments bear the unique features of the Tày ethnicity, which date back to the 16th century.
"A traditional stone stilt house has three rooms. Those who are more well-off have five," Vũ added.
"They have layers of roofs covered in bricks instead of four like stilt houses in other regions. And only two floors.
"People here got the stones from stone mines nearby. They extracted them manually, not using explosives or any other techniques like miners.
"Almost 100 per cent of the households here are offering tourism services. Three of them are being supported financially by a rural development project.
"This tourism model has started to yield results and bring income to our farmers."
Stone has become a familiar in the lives of villagers and is often used to build fences and walls. VNS Photo Đoàn Tùng
Nông Văn Phú has been running a homestay for more than a year. He thinks the distinct features are what make his village different.
"Our village is a little different to others because this is a village of the Tày ethnic minority. So the food is different," said the farmer.
"My house was built entirely from stones. It took a lot of patience to build it. I mixed lime with sand to make a lime mortar. The wall is five metres tall and 40 centimetres thick. 
"I have two types of customers. Foreigners who like to stay at stilt houses, and Vietnamese people who often book their rooms online.
"If there is any type of food they like they can tell us, and we will cook it. I have had customers who complimented my food."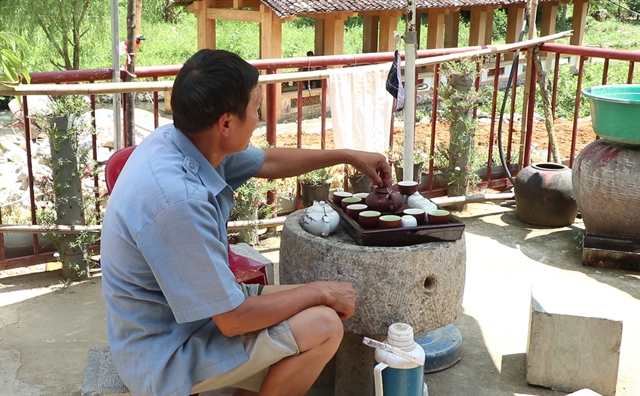 Nông Văn Phú, owner of Quang Thuận homestay, at his tea table. Household furniture like tables and chairs are also made of stones in Khuổi Kỷ Village. VNS Photo Bảo Hoa
The service has provided income for Phú and helped his family have a better life.
"After a year running this homestay our lives have improved. In a good month we make an average of VNĐ10 million (US$430)," Phú said.
"In the next two or three years I would like to plant trees along the stream. And raise fish in the stream, maybe red fish, to improve the scenery. And grow flowers."
As Cao Bằng is a mountainous province in northern Việt Nam, its rugged landscape makes it difficult to farm.
For this reason, provincial authorities have used tourism to boost the local economy.
Trùng Khánh District vice chairman Vũ said: "We have identified tourism development as one of the district's main focuses. We are striving towards generating a major source of revenue from tourism activities.
"In recent years we have been focusing on creating a tourism project for the district, and now we are planning to put it into action, step by step.
"The first step would be to develop community-based services, and we are now using all resources available to train villagers in tourism skills such as cooking and how to run a community-based tourism business.
"Apart from this village, some other communes in the district are also providing this type of service." — VNS
Watch our video on the Khuổi Kỷ stone village: