Paul Kennedy
When people do return to their home countries for various reasons, these are often one of, if not the first thing you get almost as soon as you step off the plane.
For me that thing is fish and chips.
Having lived overseas for the best part of a decade, enjoying the traditional take-away food of England tops my to-do list on the rare occasions I find myself back in Blighty.
After I've dumped my bags in wherever I'm staying on that particular visit it's off to the chippie, morning, noon or night.
Okay, maybe not morning, but as soon as they open for sure.
Fish and chips are as English as Her Majesty the Queen of England sipping a cup of tea while watching Coronation Street wearing rollers in her hair and patting a corgi.
For me, growing up in Liverpool in a Catholic family with Irish roots, fish on a Friday was almost as important as church on a Sunday.
So come 'tea-time' at the end of the working week, a trip to the chippie was an observed family ritual. It still is today, and I've no doubt that on Friday evening UK time, there will be queues forming at various fish and chip establishments the length and breadth of the country.
When I discovered a fish and chip shop was opening in Hà Nội I was as much excited as I was worried.
Excitement was obvious as it's safe to say that during the many years living abroad I've missed fish and chips more than certain friends and family (sorry, but it's true).
But there was a niggling worry, eating away, or rather chipping away, at the back of my mind.
Many fish and chip shops, and I'm not just talking about in Hà Nội but the world over, have tried and failed in days gone by to offer a little taste of Britain abroad.
Fish and chips should be simple, but it doesn't travel well.
It is a well-known fact when it comes to creating the heady concoctions of wonderful ingredients that make up Vietnamese food, local chefs are the crème de la crème.
But fish and chips is a whole different ball game, hence my concerns.
Thankfully I need not have worried. Fryday's in Tây Hồ District have got it down pat.
Diners eat at Fryday's Fish and Chips restaurant in Tây Hồ. 
Cod was available but on the recommendation of a friend, I opted for the battered snapper with chips and mushy peas.
The snapper was perfect. The batter, as crispy as required without being like cardboard, clearly a drop of beer was correctly added to the mix, and the chips were dare I say it, just like back home. If not better.
The mushy peas were creamier than I'm used to in England, but that was far from a bad thing, and to top off a perfect English-style lunch, there was a bottle of Sarson's vinegar within arm's reach.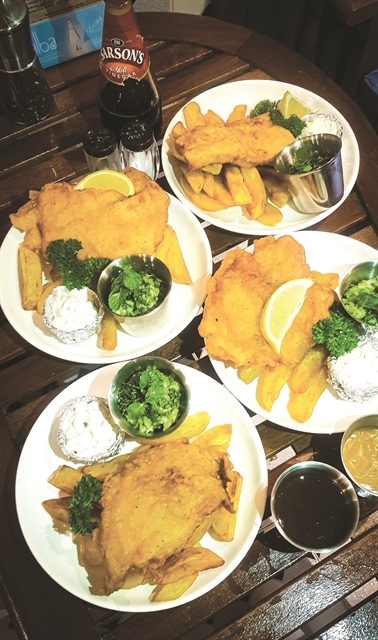 A taste of England in the heart of Hà Nội.
It would be wrong to describe this as the best fish and chips I've ever had, but it's the best I've had in Hà Nội. In fact I'll go one better, it's the best fish and chips I've had outside of the UK, and there's no better accolade I can give.
Fish and chips are the ultimate comfort food, and with a massive expat population in Hà Nội, there's no doubt a restaurant that can produce will do well.
If Fryday's does succeed the owner told me he would like to open other branches around Hà Nội, suggesting the Old Quarter as one possible location.
That may well be a prime place to sell his western wares but for me I would prefer it in a different location, closer to my home.
Selfish of me maybe, but after all, there really is no taste like home. VNS
BOX:
Fryday's Fish and Chips is located at 97 Âu Cơ Street, Tây Hồ District, Hà Nội.
Beer battered red snapper, chips, mushy peas: VNĐ170,000 (US$7.3).