Tucked away in a small alley off Mạc thị Bưởi Street in downtown Hồ Chí Minh City, where you can find souvenir shops, clothing stores, oil paintings and great cafes all within a few minutes walk, the Vietnamese bistro An is conveniently located at the end of the tranquil alley. 
A friend of ours, a native to HCM City, spent some years living in the US and is now back in the city for a less hectic schedule. Her parents were from Huế, and she grew up with Huế food, while her husband's family is from the north and they both live in HCM City, so we were treated to some of the best of Việt Nam's many distinctive cuisines.
Located in an ancient house, An has quite a collection of antiques, which gives the place an age-old impression, which was a welcome surprise in such a fast-paced city. 
TAKE ME HIGHER: Bánh bèo, a delicacy from Huế, lifted to a higher level at An, is buttery and perfectly suits any taste buds.
The appetizers came out on a bamboo tray in little blue and white Bát Tràng ceramics.
Since we ate at An last month, it is undergoing a new change in the kitchen: a new chef comes in and with him a new menu. The new menu and price shall be effective from October 10th.
First up was bánh bèo (VNĐ115,00 for six) a popular snack from Huế made of rice mix steamed in a hollow dish with pork lard and dried, shredded shrimp on top. A teaspoon of fish sauce gives it a complete blend of sour, sweet and salty from the green chilli.
A pot with steamed mussels in lemongrass and sweet basil (VNĐ130,000) came next. The mussels were so fresh that the soup still had the delightful bittersweet taste of the sea.
Next came the spring rolls (VNĐ130,000). I'm a spring roll fan, so I thought our friend had ordered it for me, but it turned everyone loved the rolls. Though it's a popular dish, An's version stood out for the well-blended filling and crispy rice wraps. It was a real knock-out.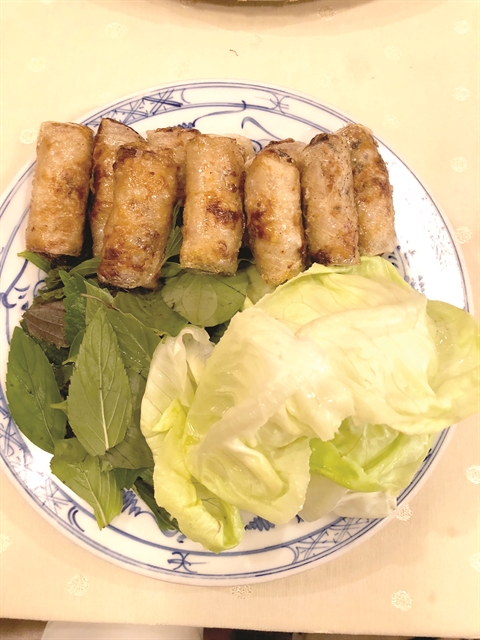 CLASSIC: Spring rolls at An are delicious, thanks to the kitchen's filling and frying expertise.
The new menu will lose some northern delicacies soon, but bún chả (grilled pork with vermicelli at VNĐ120,000/ a full set) will still be in. 
Next we had caramelised snakehead fish stew (VNĐ120,000), two other smaller fish stew cost a little more at VNĐ130,000, southern style, which was cooked in a clay pot. Many rivers and ponds, streams and lakes and the sea provide Việt Nam with fish aplenty. While each region has its own way of stewing fish, the common treatment is to use a hot spice to treat the 'coldness' of fish: the north uses galagal, the centre uses cumin and the south uses lemongrass. 
At home, you may make fish stew with bigger fish, about a kilo each or more. But smaller fish make the stew more special as restaurants can stew fish for four or five hours, or even bury the pot in burning rice shells on the ground for hours. All the bones become edible and even small children and the elderly can comfortably enjoy it on top of hot steamed rice.
We also had a vegetable stir-fry with mushroom and a delectable salad. It was very popular assorted boiled vegetables with special dipping sauce at VNĐ85,000.
To top it off, the southern signature sour fish soup (VNĐ150,000) came last. This bowl of soup is a meal on its own. The fatty fish rounds of snakehead or basa fish are accompanied by pineapple, tomato, okra, bean sprouts, taro stems, tamarind paste and last but not least: rau ngổ (a rice paddy herb). 
The southern sour fish soup has many herbs, but the defining herb to be added last is rau ngổ. This herb can be used in other dishes such as goat meat half done by lime juice, or in some fish stew.
But the northern style sour fish soup uses dill most distinctively. Just by smelling the ingredients, you know which style the soup is, and if you're visiting a Vietnamese home, you may know the family style of dining. 
I would definitely recommend An for people hanging out with a mix of friends from all parts of Việt Nam, or to a small group of tourists. An would not be able to accommodate a bus full of tourists at a time, but if you can make it there, you'll find a good meal with all the best parts of Việt Nam's rich gastronomic tradition. VNS