HCM CITY — HCM City uses artificial intelligence as a foundation to develop industry 4.0 and become a smart city.
According to the Viet Nam National University-Ho Chi Minh City, to enhance the use of AI, having high-quality human resources with the capacity to understand the latest technologies and innovations is very important.
The city has many universities and science research institutes which can foster training and research to remain abreast of the latest technologies and help build an AI eco-system.  
The city could choose outstanding candidates from high schools for gifted students to learn AI, he said, adding that universities should offer short training courses to improve research and increase the use of AI.
A pioneer in training in and research into AI in the city, the VNUHCM invested nearly VNĐ7 billion (US$301,372) to set up an AI lab at its one-member University of Science for research into advanced machine learning methodologies, speech translation into Vietnamese, bio-informatics and others.
The lab, set up in 2008, researches text-to-speech and speech-to-text.
The first AI lab in southern Việt Nam set up an IoT-Robotics Club, which attracted thousands of school and university students from not only the city but also nearby provinces like Long An, Bình Dương and Bà Rịa -Vũng Tàu.
The club has organised many free online and offline training courses on basic Python and website programming.
The VNUHCM's University of Technology also began a project in 2016 to develop crowdsourcing for data collection and providing traffic warnings in the city over mobile phones by 2020 as part of an IT application programme to reduce traffic congestion.
After software is developed, it will be offered to the city Department of Transport for trialling.
The VNUHCM's Geomatics Centre has collaborated with the city Steering Centre for the Urban Flood Control Programme for a programme on standardising data and analysing the city's satellite images.
The city People's Committee has assigned the VNUHCM's Information Technology Park to train top-notch human resources in IT and incubate IT companies.
The Information Technology Park is being developed to become the city's second IT park by next year after Quang Trung Software City.
The VNUHCM has set up an active start-up eco-system, which is helping develop the city's eastern region into an innovative urban area.
Situated in the city's eastern region, the VNUHCM was established in 1995 as one of the country's two national universities the Government designated to develop into centres to train undergraduates and postgraduates, carry out research, transfer technologies, and lead the higher education system.
The VNUHCM is at the core of the higher education system and dedicated to fostering socio-economic development.
With an area of 643.7 hectares, the VNUHCM is one of the largest educational institutions in Việt Nam. It has 36 units under it for training, doing research and transferring technologies, including its seven member universities- the University of Technology, University of Science, University of Social Sciences and Humanities, International University, University of Information Technology, University of Economics and Law, and An Giang University- and one Institute for Environment and Resources.
It trains more than 57,000 undergraduates and nearly 8,000 postgraduates every year, has nearly 5,500 staff, including 1,200 with doctorates and 2,500 lecturers.
The university's target is to become one of the 100 leading universities in Asia by 2025.  
Ranks
Since 2013 the VNUHCM has been among the 150 best universities in Asia in the QS Asia University Rankings.
This year it is one of the two Vietnamese universities in the Times Higher Education World University Rankings' top 1,000 in the world.
The rankings are drawn up by examining data from 1,820 universities in 92 countries and territories
The Times Higher Education World University Rankings evaluate universities based on five criteria: teaching, research, citation, knowledge transfer, and international outlook.
The VNUHCM is the only university in Viet Nam this year to be named in the top 500 universities in the UK's 2020 QS Graduate Employability Rankings based the ability to provide students with a successful career.
This is the second time that VNUHCM has appeared in the rankings.
The global higher education company QS Quacquarelli Symonds website shows that this year's rankings benefit from a growing database of employer respondents, with institutions receiving close to 240,000 nominations from over 44,000 employers in 73 locations.
The rankings are based on five key indicators: employer reputation, alumni outcomes, partnerships with employers per faculty, employer-student connections, and graduate employment rates.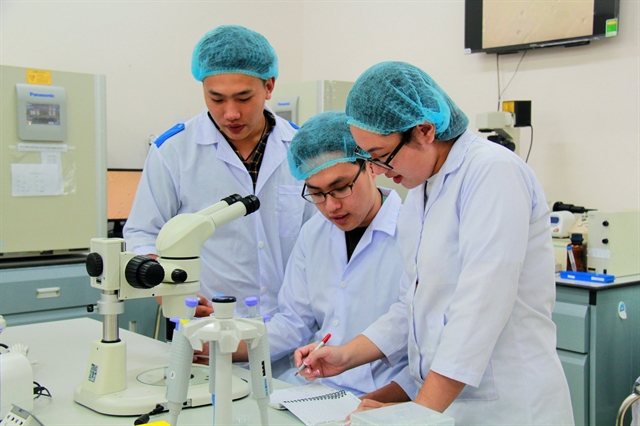 Students do research in a VNUHCM lab. — Photo courtesy of the VNUHCM
Researches 
The Government has provided the VNUHCM with two key state-level laboratories and 11 VNUHCM- level key laboratories for its main researches. The VNUHCM has used them well and has to its credit many outstanding achievements in research and technology transfer.
It has established relationships with universities in the US, Australia, New Zealand, Ireland, Belgium, Portugal, the Netherlands, and several countries in Asia to carry out joint training and research programmes focused on hi-tech agriculture, climate change, smart cities, and AI.
The VNU-HCM City has set up 60 modern labs for scientific research, training and technology transfer.
Its turnover from selling technology rose to more than VNĐ254 billion (US$11 million) last year from more than VNĐ165 billion ($7 million) in 2015.
The number of applications for intellectual property (IP) protection the VNUHCM had filed as of October 2018 was 423.
Of them, 155 have been approved, more than half of them inventions, practical solutions and integrated circuit layout designs. They promise to become products with potential IP protection and high commercial value.
In 2013-18 the VNUHCM had 3,675 papers published in international journals, with the number increasing by around 15 per cent a year. The number of articles in SCI and SCIE was 2,198.
Bio-medical and nano products from its Stem Cell Institute and Institute for Nanotechnology have helped affirm the VNUHCM's leading position in the country's research sector.
Many of its scientists have won international and Vietnamese research prizes. — VNS