Needless to say, Vietnamese cuisine is world famous. As you walk through any of HCM City's neighbourhoods, you can often smell the aromas of dishes being made by street vendors or cooks in their homes. 
The vibrant city has become a mecca for both local and international tastes offered at low-end to high-end restaurants, and everything in between. 
If you're looking for home-cooked Vietnamese food, don't miss the rooftop oasis at Nhà Tú restaurant in the centre of District 3. 
As the name suggests, Nhà Tú means Tú's home. Restaurant owner Tú Đặng, 36, wanted to create a homey feeling to welcome guests. 
Tú, who also owns a Japanese restaurant and is involved in several businesses, offers diners recommendations on what to order and even gives advice about what the city has to offer.  
Opened in 2017, Nhà Tú has gained popularity among locals, mostly staff from nearby office buildings, and foreigners. 
Tucked away in an alley on Võ Văn Tần Street, just a 15-minute walk from the much-visited War Remnants Museum, the eatery offers an escape from the bustling city.
Nothing luxurious here! You feel as if you are in a Vietnamese friend's home in the middle of the city. 
Tú designed the interior decor, with wooden chairs and tables, Art Deco furniture and bamboo lanterns.  
In the three-storey eatery, located in a narrow house, you can ask for an air-conditioned room on the first floor where you can sit on floor cushions, Japanese style. The other floors are cooled with fans. 
If you come at night, the rooftop is the place to be for fresh air and cool breezes. When it rains, a roof cover is rolled out.  
Full of plants, the rooftop resembles a small garden. It's so popular that it's a good idea to reserve a seat in the evening.
Foreign tourists have dinner at Nhà Tú restaurant's rooftop area. VNS Photo Bồ Xuân Hiệp
Home cooking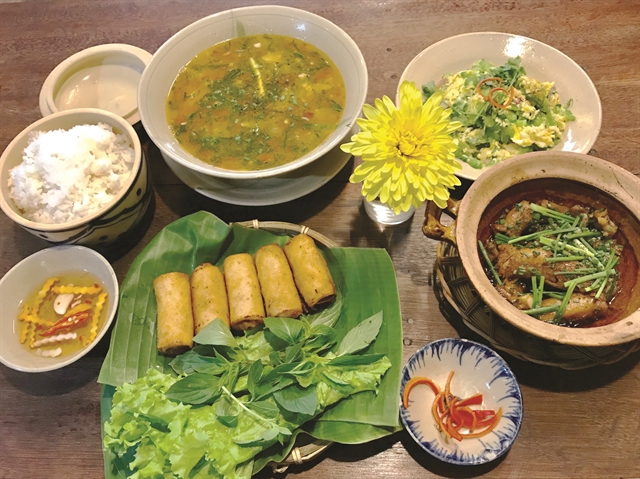 A typical lunch set at Nhà Tú restaurant includes rice, a stir-fried vegetable and a soup. VNS Photo Bồ Xuân Hiệp
I've never been disappointed in Nhà Tú's menu, which offers an array of home-cooked dishes. 
Recommended dishes include ốc bươu nhồi thịt hấp sả mắm gừng (stuffed snail with minced pork and lemongrass), chả giò (fried spring rolls), bánh xèo (Vietnamese sizzling crepe), and lẩu cua đồng (field crab hotpot).
And, while waiting for the main course, try some snacks, each priced at VNĐ45,000 to VNĐ50,000 (around US$2).
They include cơm cháy chà bông (crispy rice served with pork floss), cơm cháy mỡ hành (crispy rice served with green onion sauce), and bánh bắp mỡ hành (maize stuffed served with green onion sauce), and chân gà hấp hành (steamed chicken legs with green onion).
A lunch set for a group of three or four costs VNĐ200,000 to VNĐ500,000 ($8.5 - 21) and is popular with office workers. 
In addition to rice, the lunch set includes a main dish (fish, pork, beef or chicken), a stir-fried vegetable, and a soup.
We ordered cá lóc kho tộ (braised snakehead fish) and khổ qua xào trứng (stir-fried bitter melon with eggs). 
The fish is slowly braised in a clay pot with soy sauce, oil and a little sugar until caramelised in its own juices and seasoning. The fish was tender yet not too mushy, and the flavour was delicious.
Many Vietnamese meals are either soup-based or include soup at the end. We chose our favourite, canh hến thì là (sour tiny clam soup with dill).
If you love seafood and sweet, sour and spicy tastes, you should not miss this soup.
At the end of our meal, we were told that we had missed the signature dish, lẩu Nhà Tú or Tú's Home hotpot (with oysters, crabs, bacon and coconut water) priced at VNĐ350,000.
A visit to Nhà Tú is not complete without trying the dish, so we came back in the evening on the same day!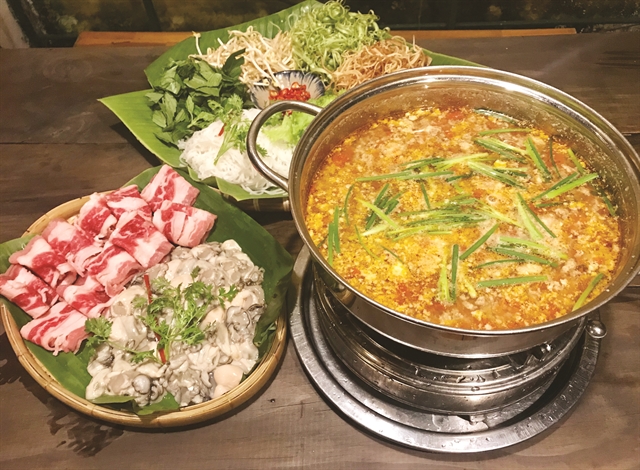 Lẩu Nhà Tú or Tú's Home Hotpot (hotpot served with oysters, crabs, bacon and coconut water) is the restaurant's signature dish. VNS Photo Bồ Xuân Hiệp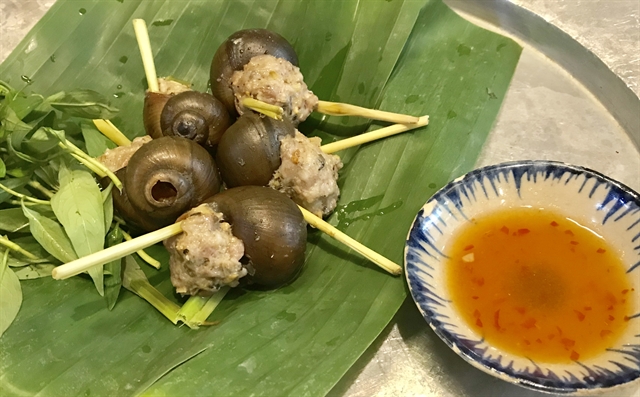 Ốc bươu nhồi thịt hấp sả mắm gừng (stuffed snail with minced pork and lemongrass) is one of the most popular dishes at the eatery. VNS Photo Bồ Xuân Hiệp
The hotpot's broth, which is kept at a certain temperature to cook the oysters and beef properly, is special because of the addition of coconut water. 
For drinks, you can choose fruit juice, soft drink, tea or coffee as well as smoothies, with prices ranging from VNĐ35,000 to 55,000. 
A special drink is nước mát, a sweet and nutty Vietnamese herbal tea often served over ice containing sugarcane, nettle leaves, maize silk and other ingredients. 
Or for a sweet, a nice treat is the sương sáo nước dừa (black jelly served with coconut milk), served with é seeds, similar to chia seeds. 
Nhà Tú also has dishes for vegetarians, including đậu hủ chiên sả ớt (fried tofu with chilli and lemongrass) and others.        
Most of its well-trained staff are accommodating despite little spoken English. The menu, however, is in both Vietnamese and English, and Tú is willing to help if needed. 
While we were there, the music of Trịnh Công Sơn played in the background, creating a relaxing and quiet atmosphere. 
Tony Hưá, a Vietnamese-American, often visits the restaurant when he comes to town. "A must visit if you are in HCM City. Had I discovered this place on the first day of my trip, I would have stopped by every day after," he wrote on www.Tripadvisor.com 
As for me, there's no better way to explore a destination than through its local cuisine. And Nhà Tú restaurant is one of the best places in the city to do so. VNS