Today Chinese food can be found in restaurants across Hà Nội that feature dim sum, hot pot and roast duck on their menus.
On a visit to Hua Mulan Restaurant, I found out many things about Chinese food that I didn't know before.
The restaurant serves many dishes that I hadn't seen at other eateries. Even for the most popular dish like hot pot, the varieties served at Hua Mulan are very different.
The waiter suggested we start our meal with a miscellany. There also salads and mixed greens but I chose pickled de-boned duck feet. All the bones are removed, just the skin and cartilage are left so they're moist yet crunchy. The de-boned feet are mixed with a sauce until it is absorbed into the feet, and the sauce is drained to leave the dish dry. It's a balance of sour, hot, sweet and salty tastes, a good choice for a starter.
These buns have a stuffing of walnut and red date paste. VNS Photo Minh Thu
I was curious about how the dish is made, so Chef Nguyễn Phương Đông explained that the only secret is patience.
"The patented method involves boiling the feet, soaking them in icy water to make them crunchy, then carefully clipping the toes and yanking the bones out by hands," he said.
As a fan of bamboo shoots, I ordered a salad, and the chef didn't let me down. The bamboo shoots were very fresh and cool. The dish was more spicy than the duck feet, so if you don't like chili, skip this one.
After two cool dishes, I decided to take on the spice. Looking at the menu, I found two unfamiliar dishes: walnut buns and 'Dragon's Blood' rice cakes.
Đông said he had spent six months in China to learn how to make these dishes with local chefs, so they can't be found at any other restaurant in Hà Nội.
The buns are made in the shape of walnuts. They are soft and taste good from the first bite. I reached the stuffing and felt the sweetness of walnut and red date paste. The thick paste was melting when I snapped the bun in half. My heart was melting, too.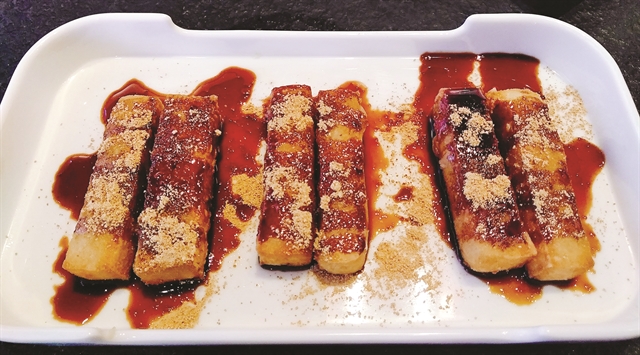 Dragon's Blood cakes are made from glutinous rice dipped in syrup, and are very popular in Yunnan. VNS Photo Minh Thu
The name Dragon's Blood rice cake sounds scary, right? It's actually made from Dragon's Blood syrup, which is very popular in Yunnan.
The cakes themselves are made from glutinous rice. The chef heats a pan, adds a little oil, and when it is hot, drops in the rice squares and deep-fries until they are golden brown. The rice is fried to make it crispy on the outside and soft and glutinous in the middle.
"I turn the cakes only once because they easily stick to the pan," said Đông.
The cakes are served with sweet syrup made from brown sugar from Yunnan. It's gently sweet, not a sharp taste that makes your throat contract.
If there are just the two of you, I recommend trying fried rice in a clay pot. You can choose to enjoy rice with seafood, beef or char siu pork. Each comes with a separate sauce. The rice sticks to the clay pot, giving it a crispy texture.
A must-try at Hua Mulan is the roast duck. The skin is crispy, shiny and thin as a paper because it's roasted at a very high temperature. The dish is very eye-catching. The duck meat is soft, succulent and salty. The chef uses a dozen spices to create its unique flavour.
The de-boned duck feet are a balance of sour, hot, sweet and salty, a good choice for a starter. VNS Photo Minh Thu
The dish is accompanied by deep-fried soy beans. They are shiny and crispy. I'm not sure why they pair with the dish so well - maybe just to garnish or to give diners a break from the rich meat, but either way there were none left on my plate at the end of the meal.
After this feast, a hot pot may be a bit too much, so it's better to go in a group so you can enjoy the nutritious yet sophisticated simmering pot with a wide range of delicacies.
Chicken bones are stewed for hours to create the broth, and the secret is using nutritious ingredients such as ginseng and precious mushrooms to create the captivating scent and taste. The hot pot is served with fresh seafood, beef, chicken, vegetables and mushrooms. The broth was so wonderful that we didn't waste any drop.
The feast didn't come to an end without a dessert. There are not many options but grass jelly with lotus seeds, oolong flowers and honey satisfied my stomach and senses.
The dessert was soft and cold and soothed my mind after too much nutrition. It really did complete the meal.
Next to my table, a group of young people were taking photos of each plate they ordered.
"The food is very special and looks gorgeous so we want to share the photos on our Facebook pages. We love the buns, this is the forth plate," said Huyền My.
It was truly a wonderful experience and all customers want to return. VNS