BY MỸ DUYÊN
Located at 202 Pasteur Street in District 3, one of HCM City's most iconic venues, Café Central Villa Pasteur has won the hearts of visitors for its great meals in pleasant surroundings with outstanding service.
Unlike its two sister restaurants, which are located in high-rises in the city centre, Café Central Villa Pasteur occupies a beautifully restored colonial-era villa with seating capacity of 220, with 40 seats outdoors and three private VIP dining rooms.
Its elegant interior contrasts with the relaxing green oasis of the outdoor seating area, an all too rare haven of calm on bustling Pasteur Street.
The stylish venue features the use of exposed brick, timber and copper touches to create a warm and inviting environment, perfect for a leisurely lunch with friends or a formal business dinner. 
Open every day for breakfast, lunch and dinner, the venue offers a delightful mix of local favourites and international fare with an extensive drink list of everything from espresso coffee, specialty teas and fresh fruit smoothies to wines and cocktails.
Since it has been very hot recently, we chose our seats in the air-conditioned interior though the outdoor dining garden looked beautiful at night. We wanted to savour different flavours without stuffing ourselves, so we decided to share our orders.  
With a talented team of chefs inspired by fresh ingredients and a desire to create a great culinary experience, the menu includes dishes from a variety of cuisines, including seafood pomelo salad, pandan chicken, focaccia with spreads and dips, oxtail soup, seafood linguine, duck noodles, US beef burger, grilled US skirt steak, pork ribs, bak kut teh (pork ribs tea), Hội An chicken rice, Nasi goreng, and a chocolate Volcano dessert.
Cream of pumpkin soup and garlic bread is an ideal way to start your meal. VNSphoto Minh Phi
The recent exclusive collaboration between internationally celebrated Australian-Vietnamese chef Luke Nguyễn and The Reverie Saigon's Italian chef de cuisine Enrico de Martino in one restaurant has set the new standards for dining in the city.
The combination of classic Vietnamese and Italian dishes results in a menu that has made the Café Central brand even more unique.
Lovers of local cuisine should not miss some of the Vietnamese classics on the menu including beef or chicken phở, sweet and sour tamarind soup with seafood, braised beef brisket in aromatic spices with Vietnamese baguette, and wok-tossed crab and glass noodles with XO sauce.
On the Italian side, diners can try traditional dishes such as zuppa di pesce (seafood soup, garlic, chili, cherry tomato, extra virgin olive oil); ossobuco (Australian veal, pan-seared saffron rice, gremolata); cartoccio (linguine, squid, prawns, clams, fish, cherry tomato, garlic and chili); fettuccine (bolognese sauce, parmesan cheese); and a panna cotta dessert.
As a lover of US beef, my son asked me to call for a wok to cook the shaking beef dish with French fries, sautéed onions, capsicum and oyster sauce (VNĐ380,000), a standout Vietnamese item. Meanwhile, my daughter chose cream of pumpkin soup with garlic bread (VNĐ118,000), a favourite of hers. 
As recommended by the waitress, I ordered a wok-tossed crab meat and glass noodles dish with XO sauce (VNĐ198,000), the restaurant's most frequently ordered dish, and a mango smoothie, a good choice when the fruit is in season and has its finest texture and taste.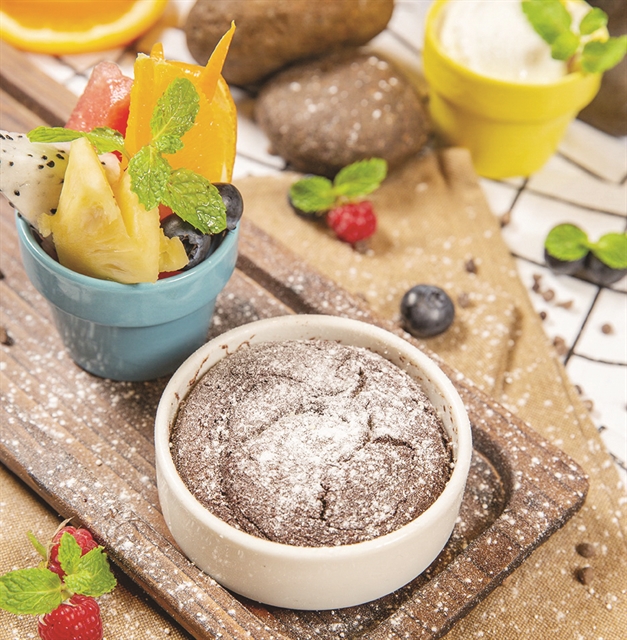 The Volcano hot chocolate cake with fresh fruit and coconut gelato is a favorite of chocolate lovers. VNS photo Minh Phi
While waiting for the food, my nine-year old twins went outside to take some photos of the garden that was full of glittering, vibrant lights. They returned just as the beef was ready for serving.
My son was hungry and asked if he could start first. I tried some bite-sized pieces of beef dipped in the special sauce, while my daughter took some of his French fries.
"The beef is tender and juicy. It's perfectly matched with the black pepper sauce," my son told me.
My daughter was equally impressed.
"Look mom, my soup looks more like a beautiful piece of art. I really don't want to eat it," she said. But she loved it, urging me to "try its fantastic taste". She said the soup was the best she had ever had.  
When my dish of glass noodles sautéed with crab meat was brought out, my twins shared some and found it was a bit too spicy. However, I enjoyed the fresh crab meat and its special flavour. It was a must-try and the mango smoothie was great as well.       
The restaurant has an array of mouthwatering desserts and homemade gelato with more than 10 flavours. But my twins opted for the Vulcano (VNĐ138,000), a delicious hot chocolate lava cake, served with fresh fruit and coconut gelato, a standout item.
A chocolate lover, my son finished the cake while my daughter left half of it for me. "The hot chocolate cake was super delicious. It melted in my mouth. I've never had this kind of cake before," my daughter said.
Curious about the cake, I took a bite. It was truly tasty.
All in all, the dining experience was relaxing and enjoyable, a perfect night out for my family, and I'm sure that anyone who dines there will feel the same. VNS.