Visiting Cần Thơ City during the recent Southern Traditional Cake Festival, I was overwhelmed by the sheer number, size, flavours and shapes of the region's sweet and savoury cakes.
For many decades, artisans in the southern region have preserved the regional art of cake-making, producing an astounding 400 varieties of 150 different kinds of traditional Vietnamese cakes.
Since its launch eight years ago, the festival, which was held from April 12-16, has made great efforts to promote and preserve traditional southern cuisine. Every year, the event is a must-visit site for lovers of southern dishes.
Even though I'm a native of the Mekong Delta, many of the cakes were unfamiliar to me. Among locals and foreigners, chè (pudding) and bánh (cake) are some of the best well-known.
The many different flavours of southern traditional cakes attract both children and adults. —VNS Photo Ngọc Diệp
Other cakes of lesser renown, but still as tasty, include bánh xèo (rice crepe stuffed with shrimp, pork and bean sprouts), bánh tét (a cylindrical glutinous rice cake filled with green bean paste and pork), bánh tráng (rice paper), bánh ít trần (sticky rice dumplings), bánh hỏi (thin rice vermicelli), bánh da lợn (steamed layer cake), bánh chuối (steamed banana cake), bánh khoai mì nướng (baked cassava cake), and chè trôi nước (floating rice-ball pudding).
Ordinary and glutinous rice dough is the main ingredients for these cakes, which is often packed in banana leaves and coloured with natural materials like fruits and vegestables.
Though no one really knows when or how the cakes originated, many of them have been passed down through the generations and have been altered or improved.
Nhâm Hùng, a cultural researcher who wrote the book Learning about Southern Traditional Cakes published in 2016, said many of them were created to meet the demand for cakes that could be kept for several days.
"In the past, people usually brought their homemade cakes like bánh tét for working days far away from home where they cannot cook meals," he said.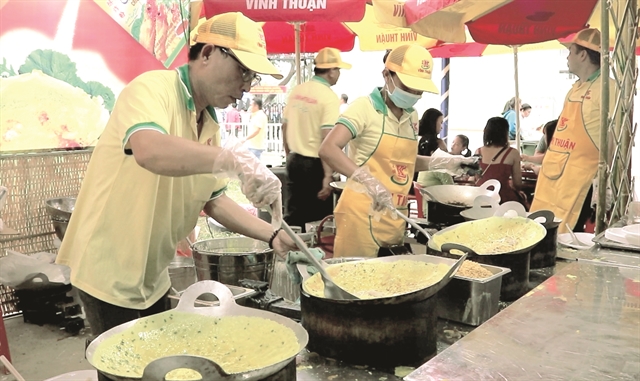 Cake artisans show how to make bánh xèo (rice crepe stuffed with shrimp, pork and bean sprouts) at the 8th Southern Traditional Cake Festival held in Cần Thơ City from April 12-16. —VNS Photo Ngọc Diệp
Besides being the biggest rice granary in the country, the Mekong Delta region is also a large source of tropical fruits which provide plentiful raw materials for cakes.
"Locals use hundreds of ingredients to make cakes in different ways, creating a wide diversity," Hùng said.
Local materials such as coconut, ripe bananas and mung beans are among the common ingredients.
Hùng said that northerners who migrated southward also brought their culinary culture. For example, bánh tét in the southern region is considered a version of bánh chưng (square glutinous rice cake) from the northern region.
Bánh đa (rice cracker) in the north and bánh tráng in the south have many similarities. Bánh khoái (Vietnamese pancake) is a popular dish from the central city of Huế that appeared later in the south and was transformed to bánh xèo.
Through cultural exchanges, other southern traditional cakes like bánh bò (steamed rice cake), bánh lọt (rice noodle sweet soup) and bánh bông lan (sponge cake) share similarities to those made by the ethnic Hoa (Vietnamese of Chinese origin).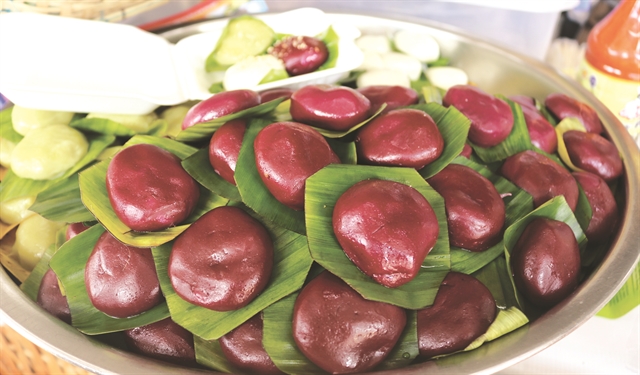 Southern traditional cakes are often made of rice flour with natural materials like fruit, and are packed in banana leaves. —VNS Photo Ngọc Diệp
Craft villages have also contributed to the development of traditional cakes for many years. Famous brand names include Thuận Hưng rice paper village in Cần Thơ City, Mỹ Lồng rice paper and Sơn Đốc cassava paper in Bến Tre Province, and Trà Cuôn sticky rice cake in Trà Vinh Province.
Cakes are often served as dessert on special occasions such as Tết (Lunar New Year), birthdays, wedding parties and ancestors' death anniversaries. 
Each region's history and cultural traditions are reflected in their traditional cuisines, Vũ Thống Nhất, vice chairman of Cần Thơ City's Writers' Association, noted.
Southern cakes have been handed down by generations of families thanks to their distinctive flavours. "Each cake and its varieties express the creativity of cake artisans and the adaptation of each generation to changing lifestyles."
Bánh bò, for example, traditionally has the milky white colour of rice flour, but, today, raw natural materials impart different colours, such as panda leaf (green), Gấc fruit or spiny gourd (orange), lá cẩm (the leaf of the magenta tree – purple), brown rice (brown), and palm sugar (yellow).
Bánh tét, which is made primarily of glutinous rice with mung bean and pork filling, now comes in many versions, such as bánh tét lá cẩm made with purple glutinous rice with mung bean, pork filling, sausage and salted egg.
Bánh tét nhân chuối is made of glutinous rice with ripe bananas, bánh tét nhân đậu xanh of glutinous rice with mung bean, and bánh tét cốm dẹp of cốm dẹp (young sticky rice flakes) with mung bean or shredded coconut.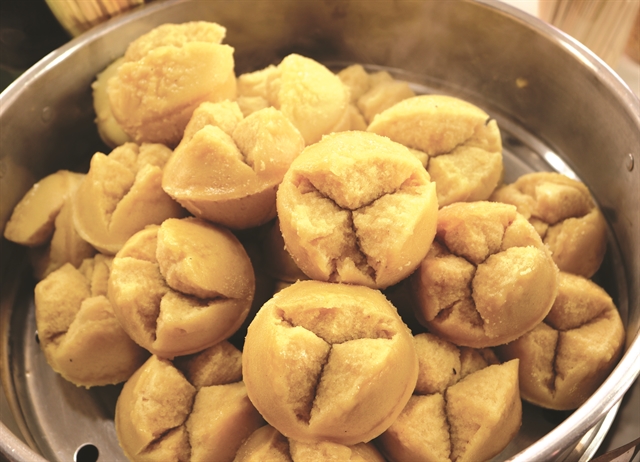 Bánh bò thốt nốt (steamed rice cake with palm sugar) is a famous sweet cake from An Giang Province where large areas of palm trees grow. —VNS Photo Ngọc Diệp
Opportunities and challenges
Many traditional cakes can easily be found at local markets, and are also served as a dessert in luxury hotels and restaurants, and during parties.
However, they have yet to find a large consumer outlet, and found mostly in domestic markets.
In recent years, many artisans' households in southern provinces have been offering community-based tourism services where visitors can make their own traditional cakes and enjoy a cake buffet.
The region has seen an increasing number of foreign tourists visiting the community-based services where they can try their hand at making cakes.
Phan Kim Ngân, a cake maker in Cần Thơ City's Sơn Islet, said her family welcomes about 100 visitors each day who want to sample the original taste and learn about traditional methods of preparation. 
"Learning how to make southern traditional cakes and hearing the origin of each cake are interesting experiences for tourists," she said.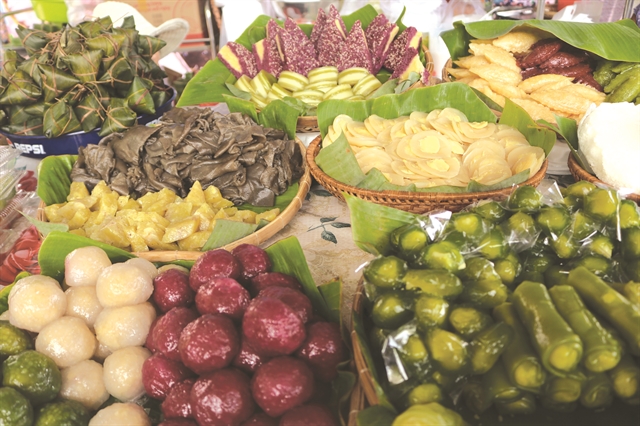 The diversity of southern traditional cakes. —VNS Photo Ngọc Diệp
To offer cake makers better incomes, authorities are now considering how they can promote the value of southern traditional cuisine.
Some of the challenges include food safety and hygiene during the cake-making process, obstacles to business development, and the building of brand names.
Cake artisans, who want to export their products abroad in the near future, are working to improve the quality of traditional cakes to meet market demand, consumers' tastes, and export requirements.
Thanks to their increasing popularity, some traditional cakes such as bánh tráng and bánh hỏi have already been exported to foreign markets. VNS