By Đỗ Hữu
I eat vegetarian food two days a month to purify my mind, that's why I have a chance to experience many vegetarian restaurants in Hà Nội. Vị Lai is one of the most well-designed spaces.
It's located close to Quán Sứ Pagoda, so many Buddhists come to have a meal after praying. It is nestled in a small lane off crowded Lý Thường Kiệt Street. The noise is left behind when we walk under the green canopy to enter the patio. The entrance is designed like a wooden bridge spanning a stream which is full of koi fish.
The convenient location may be the reason for people to come, but I believe the nice staff and delicious food are reasons for them to return.
Each floor of the five-storey restaurant is designed with a different inspiration that inspires emotions and contemplation for gourmands.
The first floor is inspired by two paintings of Vietnamese traditional fine arts. The painting "Carp Looking at the Moon" advises people to focus on real things in life, don't pursue mirages like the moon in the water. The painting "Bird Sitting on Apricot Branch" symbolises good fortune and happiness. 
The seats are arranged on artificial lotus leaves floating on the manmade stream. It's an amazing feeling to sit in such a nice place, but you should make a reservation because these seats get full very quickly. 
The second floor is inspired by flamingos with the belief that when people do good things, miracles will come. The third floor is decorated with images of four seasons, denoting the cycle of time. The fourth floor is inspired by Buddhism expressed through Mandala paintings. The top floor, called Enlightenment, may help people escape from worries and sorrow.
The menu is diverse with soups, salads, main courses, side dishes, hotpots and desserts. I haven't tried all of them but what I ordered is worth recommending.
Chef Ngọc Mai said all ingredients are natural and organic. The chefs use few spices to preserve the original taste of the dishes.
"People choose to eat vegetarian food for many reasons, mostly because they want to consume less protein and fat, or they want to follow a healthy lifestyle," Mai said.
"Eating vegetables has a miraculous effect in detoxifying your body, so we try to preserve the original taste and advantages of the ingredients, we use no preservatives."
Top treat: Fried lotus roots are amazing with their crispy texture.
I ordered summer rolls, crispy filo rolls and fried lotus roots as a starter.
The one I highly recommend is vegetables mixed in powdered grilled rice. Different types of vegetables, mushrooms and fried tofu are sliced into threads then mixed together with powdered grilled rice. The taste and fragrance are increased to a higher level thanks to the powder. All the ingredients are wrapped in rice paper and dipped in a special sauce which is sour, spicy, sweet and salty.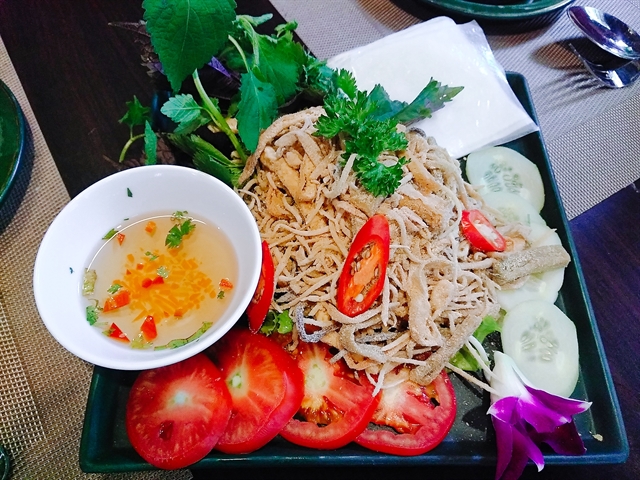 Greens: Vegetables mixed in powdered grilled rice, served by wrapping in rice paper and dipping in sauce.
For the main course, I ordered rose noodles. The dish won me over with its beautiful appearance and sweet broth cooked from roses.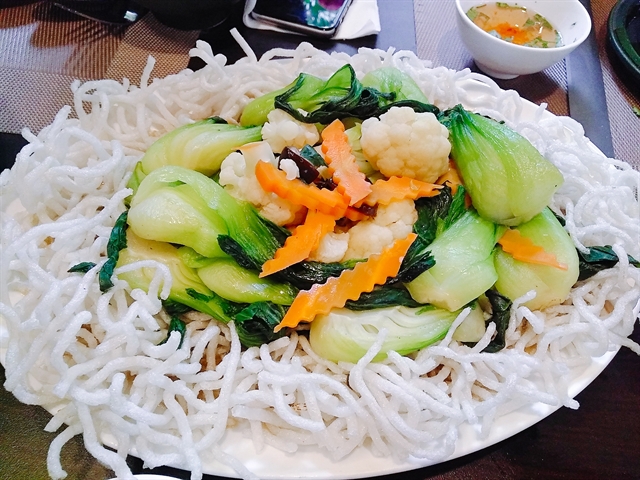 Nice noodle: Fried vermicelli with vegetables and Vị Lai's special sauce.
Another recommended dish in this category is vermicelli served with stir-fried vegetables. It's amazing to see carrot, cauliflower and bok choy lying on crispy fried vermicelli like a white pillow. When I mixed all of them with the special sauce of the restaurant, the vermicelli turns saucy, shiny and soft. It's really a two-in-one dish as you can enjoy the vermicelli when it's crispy or soft.
"Vị Lai means things in the future," chef Mai said.
"We believe good seeds at present will give good fruits in the future. Through the food, we want to spread the message of kindness and a healthy lifestyle." VNS