By Minh Thu
Blush Beach Club occupies a scenic site in Điện Ngọc Ward, the central province of Quảng Nam. It is a 10 minute drive from the Hội An Old Quarter and 15 minutes from Đà Nẵng International Airport.
Apart from Dragonfly Restaurant, the club includes three bars, a water sport area, an outdoor stage and beach amenities. You can swim in the pool or the beach for free all day if you buy some food and drink.
The place was welcoming with lawns and coconut trees. The radiant sunlight didn't tire me out because of a pleasant breeze from the ocean. The 30-metre swimming pool on the patio and the far-away blue sea definitely soothed the heat.
The beach club is a fantastic place to hide away from the public beaches in Đà Nẵng and Quảng Nam packed with tourists and vendors.
The restaurant's menu is diverse and indulgent. As my children spent the morning on the beach, I enjoyed the cocktails and snacks.
The coconut puree cocktail, lychee daiquiri and passion fruit mojito were perfect, all refreshing but not too sweet. 
When my children came back inside soaking from the beach, they found delicious snacks waiting for them: veggie chips and homemade fries with rosemary.
Grilled shrimp and lotus root salad. VNS Photo Dạ Thương
Dragonfly Restaurant offers a fine dining experience in a modern and cool space interspersed with artificial streams for a combination of posh design and an environmentally friendly atmosphere. 
To start the meal, I ordered grilled shrimp and lotus root salad, which included prawns, lotus root, greens, peanuts, black sesame and Vietnamese vinegar. All of the ingredients were treated with care and elevated. The prawns were small but sweet and firm. They must have been very fresh.
In my opinion, the best part of the salad was the fried lotus root, which brought in a unique scent and taste.
Each dish served at Dragonfly Restaurant comes with fantastic sauces chosen by the chefs. You can discover unique soy glazes, gochujang, chimichurri or Japanese-style dashi.
The pork belly was the perfect lunch, merging Chinese and Korean cuisine. The sweet and spicy pork was served with a salad of mangoes, papayas and carrots, as well as Chinese dumplings, kimchi and a runny quail egg. It went perfectly with the soy glaze.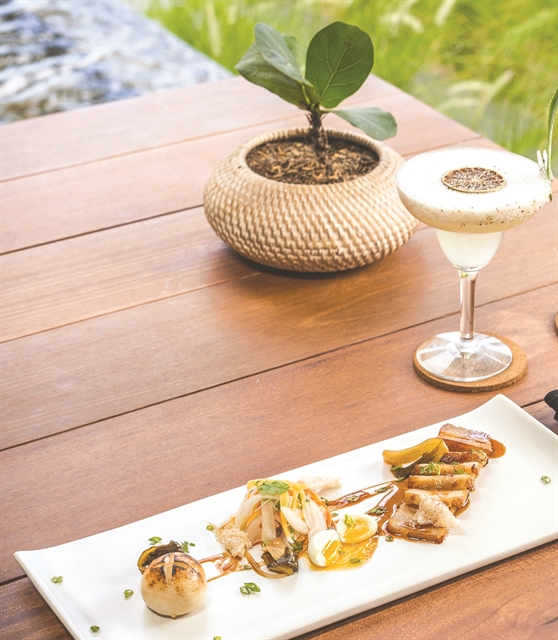 The plate of pork belly was the perfect marriage of Chinese and Korean cuisine. VNS Photo Dạ Thương
The pork is both lean and fatty, slightly burnt at the edges with a nice smoky flavour.
The flavourful main courses involved creative combinations of ingredients. The chefs paired beef, chicken and duck breast with pickles, funky cheese blends and powdered burnt onions.
Recently, Đà Nẵng and Hội An have become popular destinations for foreign and domestic young visitors. They have many options to discover, from nightlife in the Old Quarter to the clubs in the city centre.
Everyone can find a place to fit in here. There are quiet, private corners to relax, places for children to play and great music for young people.
With its wonderful location and food, I expect the newly opened Blush Beach Club to soon be a favourite spot for tourists. Live music is performed every night and it is a hub of different cultures, from its varied cuisine to its international visitors.
It promises to be the ideal venue for outdoor music events and amazing pool parties.
Next time I come back I will definitely bring some friends along for the ride! VNS