By Mỹ Duyên
With its open-plan kitchen looking out onto Hai Bà Trưng Street in downtown HCM City, NAMO catches the eye of many passersby, especially lovers of authentic Italian cuisine.
At the entrance, the kitchen welcomes guests with the action of its skilled cooking team headed by world-class chefs preparing fine Italian dishes for diners sitting at a long like-bar table, while a staircase leading to the main dining floor has wonderful views of the Opera House, one of the city's most iconic landmarks.
Grilled foie gras and Sicilian caponata with truffle sauce is a standout at NAMO. VNSphoto Minh Phi 
The open kitchen allows guests to see, hear and be a part of the chefs' action. The central piece of the kitchen is the traditional Stefano Ferrara oven, NAMO's wood-fired, brick-built heart and soul. From here, the kitchen opens to a double height ceiling, allowing the atmosphere of the kitchen to travel up to the mezzanine level.
The three-storey structure, fully renovated and transformed into a stunning venue, features two top floors. On the top floor, a faceted brass bar with an unrivalled view of Lam Sơn Square lends the space a truly cosmopolitan feel.
Reminiscent of Italian heritage restaurants, NAMO serves classic flavours of the most popular cuisine in the world such as pizza and pasta. Its décor has a modern Italian inspiration with dark colours as the central theme.
The design of the space is similar to the design of its menu, which was deliberately done to create an immersive dining experience that goes beyond a bowl of pasta or simple slice of pizza.
"We wanted the stellar ingredients and our world-class chefs to be an intrinsic part of the experience, visible and integral to the design," a representative of NAMO said.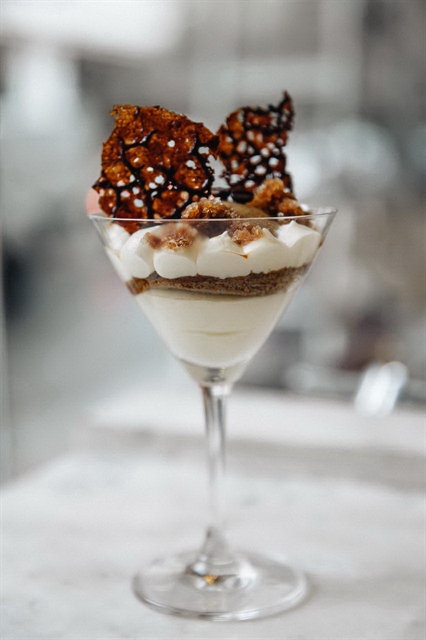 Iced tiramisu is a great choice for dessert. VNSphoto Minh Phi 
The restaurant's expansive menu features a tempting selection of traditional Italian food items ranges from pizza and pasta to soup, tasting boards, chicken, beef and seafood, cooked in a truly Italian way.
The restaurant caters to private events ranging from canapé and cocktail events to sit-down dinners, and makes menus to diners' orders, from signature NAMO dishes served family-style to pass-around selections of antipasti, grilled dishes, bruschetta, salads and desserts.
At NAMO, all food items are meticulously prepared and crafted by talented chefs including Michelin-starred chefs. My friend and I were lucky to visit NAMO when the stylish venue welcomed the Italian guest chef Fabrizio Aceti who stole the heart of NAMO's guests last summer with his masterful and inventive cooking techniques.
This time, the Michelin-starred chef took diners on a fascinating journey to the seductively beautiful island of Sicily with two special four-course set menus – one for meat lovers (VNĐ990,000) and another for seafood lovers (VNĐ890,000).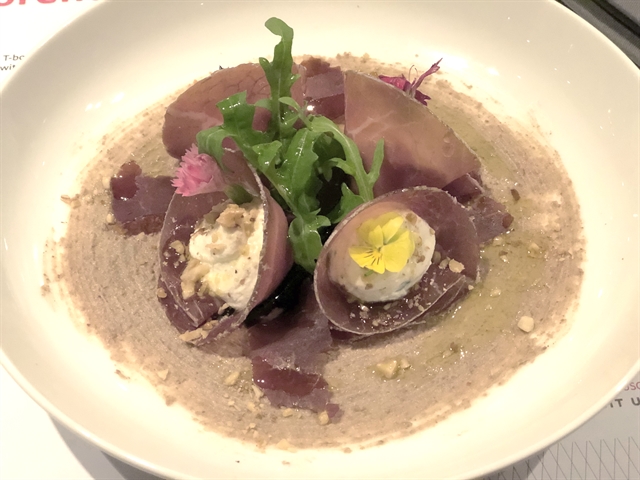 Cured beef, ricotta, chives, walnut sauce and balsamic vinegar is a must try. VNSphoto Minh Phi 
It was hard for me to decide between the two, so we decided to share it all!
The two menus highlighted distinctive Sicilian dishes, and thanks to the skill and experience of Fabrizio, sophisticated diners are able to experience all of the spectacular foods of the island, from foie gras to fresh seafood direct from the sea to table, and the signature caponata rounded off with a tang of sweet vinegar.
If you have a sweet tooth, you will be definitely spoiled in Sicily. For curious eaters, the stunning torta mimosa or iced tiramisu, a typical Italian dessert, was highly recommended for a complete meal.
We started our meal by sharing two fine dishes, the marinated salmon carpaccio and cured beef with ricotta, chives, walnut sauce and balsamic vinegar. Both were outstanding and won my heart for their look and taste. But the more impressive-looking dish was cured beef, which was crafted in the shape of a flower.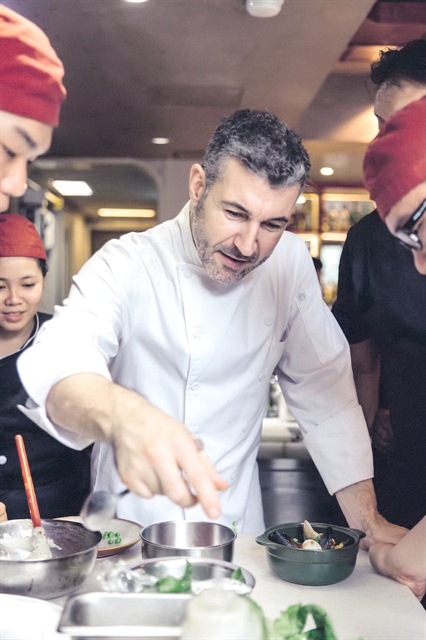 Michelin-starred guest chef Fabrizio Aceti introduces his team to a new recipe. VNSphoto Minh Phi
Our next tries were ricotta-cheese gnocchi with clams, burrata and dried mullet eggs, and grilled foie gras with Sicilian caponata and truffle sauce. I tried the cheese dish for the first time. It looked tantalizing and its flavour was exceptional, but I preferred the foie gras for its smooth texture and flavour, which melted in my mouth.
We then went ahead with the main courses, roasted seafood including prawns, mussels, scallops and seabass with truffled potato and rosemary bisque, and roasted beef with porcini cream, balsamic onion and thyme jus.
For me, the seafood was a bit salty and uninteresting though it was fresh, so I left more than half of the portion for my friend. The beef, however, was fresh, juicy and tender, and was well matched with its homemade special sauce, creating a fantastic flavour. I was nearly full so I took only three bite-sized pieces.
Aside from his culinary delights, on the occasion, chef Aceti, at a cooking class (VNĐ890,000) which included lunch, unveiled a secret recipe of his Michelin-starred kitchen, impeccable handmade gnocchi.
A fine selection of a la carte items, tasting boards and side dishes are also on offer at NAMO such as Italian cold cuts (VNĐ390,000), and cheese platters featuring hard and soft international cheeses and truffle honey (VNĐ390,000). Bistecca Fiorentina or Tuscan style T-bone steak, in which steak is seasoned with salt, oil and pepper and perfumed with Tuscan herbs, is another NAMO specialty that should not be missed. 
At the end of our meal, I left my iced tiramisu for my friend since I was truly stuffed. However, when it was brought out, I couldn't resist the beautifully prepared and garnished dish. Just two teaspoons of tiramisu were all I needed to end our great meal at NAMO. VNS