Even food expert Vũ Bằng found the dish intriguing, writing: "It's surprising how they could make such awesome dishes of grilled fish at the restaurant that we could never compete even with massive effort. Our grilled fish will never match the crispiness or perfect cooking."
The dish delivers a fascinating, unusual flavour that Bằng said some attribute to the marinating process, which employs a special kind of oil to "dress" the fish in a beautiful costume.
I took Bằng's words as a guideline when I attended a party at a grilled fish restaurant last Saturday.
Hà Nội has been famous for the Chả Cá Lã Vọng restaurant in the Old Quarter for generations, but now there is also Vua Chả Cá. Its six branches serve some of the city's finest chả cá in luxurious yet nostalgic spaces.
We held our party at Vua Chả Cá's second branch at 26C Trần Hưng Đạo Street. I found the decoration of the enormous space pleasant and warm, with large wooden panels on the walls accompanied by historic black and white pictures.
A devoted waiter sat the six of us at a large table next to a window on the second floor with a great view overlooking Trần Hưng Đạo and Phan Chu Trinh streets.
"For me, there's a unique pleasure to enjoying grilled fish inside an old shop," Vũ Bằng wrote in Miếng Ngon Hà Nội (The Delicious Dishes of Hà Nội). "It has to be the second floor, where I can sit neatly in a cosy corner, savour every little piece of grilled fish while watching people wandering on the cold and rainy street of winter. What a sensational feeling that is!"
A hotpot set with cá lăng dọc mùng (fish and taro leaf stem) is a great option to cool down in the summer heat. Photos Mai Hương
Despite the fact there was no discount offered on the day we were there (the restaurant offers 50 per cent off on Mondays), I still found the price affordable compared to most luxury places. We ordered six special grilled fish sets (VNĐ159,000 each), three sets of fish innards (VNĐ149,000 each) and one special fish hotpot (VNĐ499,000).
One of the best things about the restaurant is watching your meal being prepared right at the table. Before the fish came out, all of the auxiliary ingredients appeared including peanuts, rice noodles, spring onions, dill and other fresh herbs, shrimp paste with lemons and a bottle of the special yellow oil that Bằng sites as the secret to the dish.
While we waited, we made our own sauce by squeezing the lemons into the shrimp paste. Adding a little bit of the oil balances the flavour, making it greasier and less intense.
Finally, the waiter brought out dishes full of fresh hemibagrus fish and innards. He poured some of the magical yellow fat into the pan, turned on the stove and stir-fried the spring onion with garlic and aromatic dill. With such an appetising smell coming from just the vegetables, I could hardly wait for him to add the fish.
As it turns out, I did not have to wait long. After just thirty seconds, all of the innards and pieces of fish were added to the hot pan, combining with the vegetables to create an even better aroma.
Once the fish was cooked I began to form my perfect bite. It includes a piece of fish, noodles, peanuts, herbs, dill and spring onion, all covered in just the right amount of shrimp paste.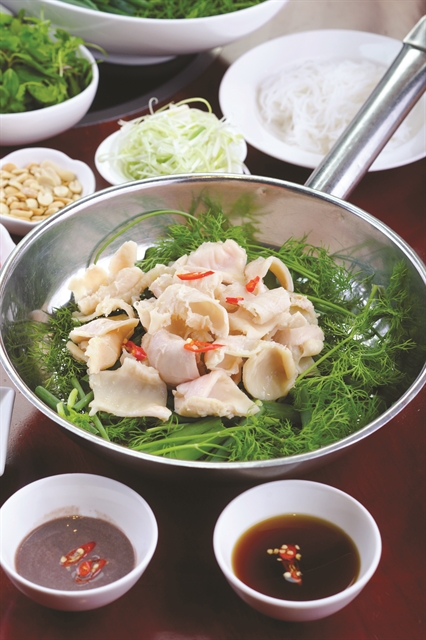 Crispy and delicious fish innards at Vua Chả Cá. Diners may be hesitant at first, but they are almost impossible not to enjoy. Photo Mai Hương
The fish is fantastic and satisfying, with addicting greasy skin and firm meat. Together with the noodles and a little bit of all the other ingredients, the humble fish is elevated to another level. The crunchy innards are the perfect complement to the aromatic dill and spring onions. The meal is a wonderful balance of flavours, an exquisite picture with all kinds of beauty in it.
"We confidently affirm the quality of traditional grilled fish with experienced chefs that will bring absolute satisfaction to you," said Nguyễn Thanh Hiếu, our diligent server. "With the carefully selected ingredients, you will experience the full essence of traditional Hà Nội cuisine only here."
We ended the party with sweet grapefruit soup for dessert. I was surprised to find that a restaurant that makes incredible grilled fish could also prepare such nice desserts. The light soup replaced the fishiness of the shrimp paste with the pleasant flavour of grapefruit and green beans.
Now I understand the curiosity of author Bằng. Eating at home might be a tempting choice, but there is a reason the culinary culture of the Vietnamese people has been developing into a proud heritage and an immortal symbol of the country. Every one of the finest cooks in Hà Nội shares a secret – the city's thousand-year-old culture. VNS
Addresses: Vua Chả Cá restaurant chain in Hà Nội: 48 Nguyễn Thị Định  0979775566 – 02432216599;  26C Trần Hưng Đạo: 0961757522 – 02433925999; 76a Mai Hắc Đế : 0961959518 – 02438263399; 269 Giảng Võ : 0979279219 – 02433896222; 12A1 Lê Đức Thọ – Mỹ Đình: 0969592338 – 02438360999; and 9 Lý Thường Kiệt: 02439066969 – ‭0968196625‬
Hours: 10am-10pm
Comments: Welcoming restaurants with delicious grilled fish and fish hotpot at affordable prices. 50 per cent discount every Monday.