By Nguyễn Mỹ Hà
After enjoying the party for a while, we ordered room service for a quiet evening. We had shrimp avocado salad (VNĐ250,000), fettucine with beef and tomato ragu (VNĐ420,000) and "ribeye on the stone" (VNĐ490,000), which was so good we ordered it again the next day.
When we arrived back at the restaurant the next morning, everything was perfectly clean as if the party never happened.
Salmon and caviar rice paper rolls offer a fresh opening to the meal. VNS Photo Mỹ Hà
Weekends are a great time for barbecues at Breeza, the western restaurant located on the ground floor at the beach. On the second floor is Muối, a Vietnamese restaurant.
At Breeza, you can order your choice of BBQ ­– seafood, meat or mixed. We had a mixed platter (VNĐ825,000), which included a steak and mutton ribs with potato chips. Everything was delicious but I would have liked more salad and roasted vegetables to accompany the meat. I also had the burrata salad (VNĐ380,000), which was the best rocket salad I've ever had.
At Muối, the Vietnamese restaurant and bar, as part of a press trip, we were treated to the same special dinner given to a group of representatives of famous high-end publications including Golf and Forbes magazines.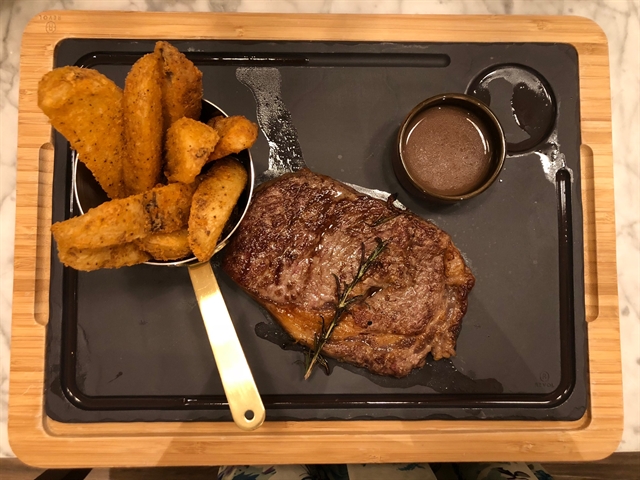 Ribeye on the stone with delicious roasted potatoes on the side. VNS Photo Mỹ Hà
Melia Hồ Tràm, which just opened on April 20, is managed by the Spanish brand. This picturesque resort adds some Spanish flair to the Vietnamese beach near Vũng Tàu, a three-hour drive from Hồ Chí Minh City.
Located north of Long Hải beach, the once-exclusive retreat destination of the upper class Saigonese in the 1960s, Hồ Tràm now boasts new beach resorts to attract holiday-goers from Việt Nam's big cities. But perhaps this new concept blending Spanish and Southeast Asian influences will bring in more foreign travellers as well.
Muối, the Vietnamese restaurant, has what I would call a "best-of-three-regions" menu.
To start, we had salmon rice paper rolls (VNĐ240,000) which had seared salmon, green mango salsa and salmon caviar. Wrapped in young mustard greens, the rolls looked pretty and tasted exquisite.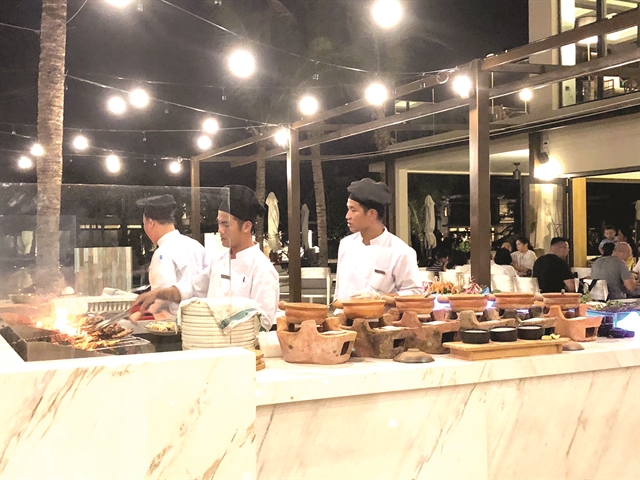 Chefs hard at work to cater the party on the beach, with music and great food. VNS Photo Mỹ Hà
I was hesitant to move on to the next starter because I didn't want to lose the good taste of the rolls, but we had two other exciting starters to try: salt and pepper calamari (VNĐ220,000) and seared lemongrass beef salad (VNĐ230,000).
The calamari was not as crispy as I thought it should be, but the beef salad was great thanks to the gentle sourness that came from slices of starfruit.
Next came the main dishes. Jumbo prawns with tamarind (VNĐ370,000) reminded me of the more popular crab tamarind without the hard work of shelling the claws. Next came the wok tossed pepper beef tenderloin (VNĐ470,000) which was just as familiar and good as I was expecting. For those who like to have meat for their meals, this is your dish!
At a normal meal I would have been very satisfied stopping here. But there was more to come so I'm glad I arrived hungry to do the other dishes some justice.
Next came two dishes that almost every family in the lowlands of Việt Nam from north to south, east to west live on: caramel pork and morning glory!
But these were no everyday staples; they were of course upgraded to restaurant quality. The caramelised pork belly (VNĐ310,000) was stewed with quail eggs and small, spicy green peppers. Garnished with chopped green shallots, it tasted different than the caramel pork you might have had before. I wish I knew the recipe!
Stir-fried morning glory with garlic (VNĐ140,000) is something you grow up with, no matter how poor or rich your parents may be. This was a delicious version, but even for a trained chef it's hard to beat the taste millions of mothers out there feed their children day in day out.
To wrap it all up, a piping hot bowl of the southern signature sweet and sour tamarind and pineapple fish soup (VNĐ190,000) left me feeling content. A ladle of soup over a bowl of white rice is always my favourite way to finish dinner.
On the table, we also had garlic mushroom fried rice (VNĐ230,000) which was great on its own but I wouldn't recommend eating it with the soup.
A DJ plays music nonstop at the venue. The few dozen cabanas are scattered on the beach and around the pools. With a few tapas added to the menu, you'd have a proper taste of the Spanish summer only three hours away from Hồ Chí Minh City. VNS
Muối — Vietnamese Restaurant & Bar
Breeza — Western dining
Address: Melia Hồ Tràm Resort & Spa
Tel: 0254-3789000
Comment: Delicious food on the beach a three-hour drive from HCM City