By Đỗ Hữu
Chè refers to a wide range of sweets made from different ingredients, mostly using a sticky clear liquid made from kudzu powder mixed with water and sugar. The liquid is mixed with sweetcorn, black beans, cốm (young green rice), lotus seeds, mung beans, durian, taro or sweet potatoes. A bowl of chè can be topped with colourful jelly and shredded coconut.
The dessert is topped with blended ice that helps reduce the sweetness and mixes all the ingredients, making it the ideal summer snack.
Though it's sweet, there's no need to worry about packing on the pounds thanks to chè bưởi.
That's because Vietnamese pomelo cuts fat levels in blood and apart from the juicy flesh, the white part under the green shell is what's used make chè bưởi.
While it's a challenging and time-consuming dish to make, you won't regret having a go, and neither will anyone lucky enough to try some!
First, you peel off the green cover of pomelo and use the white part which looks like sponge. It's then cut into small cubes and mixed with a little salt. These cubes are soaked in water in five hours. Then they're rinsed under until they don't taste bitter and the white cubes of pomelo turn crunchy.
The cubes are then boiled and soaked immediately in an icy bowl, which helps the pomelo cubes be crunchier and chewier.
The cubes can then be mixed with sugar and stir-fried several times by chopsticks. At this stage, a little tapioca starch is added into the hot pan and mixed very well to make the flour cover all sides of cubes. After stir-frying, the remaining tapioca starch is added to the cubes to make a coat for them.
Processing these pomelo cubes is the most important part to make the dish. The goal is to make it chewy, crunchy and not bitter. — Photo nauanngon.vn
Processing these pomelo cubes is the most important part and many people end up with still bitter or too crumpled pomelo.
The other steps are similar to the process of cooking other sweet soup, just steam mung beans (without skin) until they are soft, and mix mung beans and pomelo cubes in a mixture of tapioca starch, water and sugar until the mixture is thick.
Nguyễn Thị Tố Như, a resident in Hoàn Kiếm District, said has enjoyed chè bưởi at a small shop on Hai Bà Trưng Street since when she was young. While other shops sell different types of sweet soups, this one serves chè bưởi only.
"Here chè bưởi has a balance of the ingredients, it's not too sweet," said Như.
"I love chè bưởi because it cools down the summer's heat, it's also good for health, the pomelo cubes are chewy and soft."
Nguyễn Thị Lê, owner of the shop, has made chè bưởi for 25 years. She said this dish is the most complicated one among the family of chè.
"I steam the mung beans twice to make them soft but still keep the whole grains," said Lê.
"The pomelo is processed with carefulness in all steps, as any misstep can ruin the dish."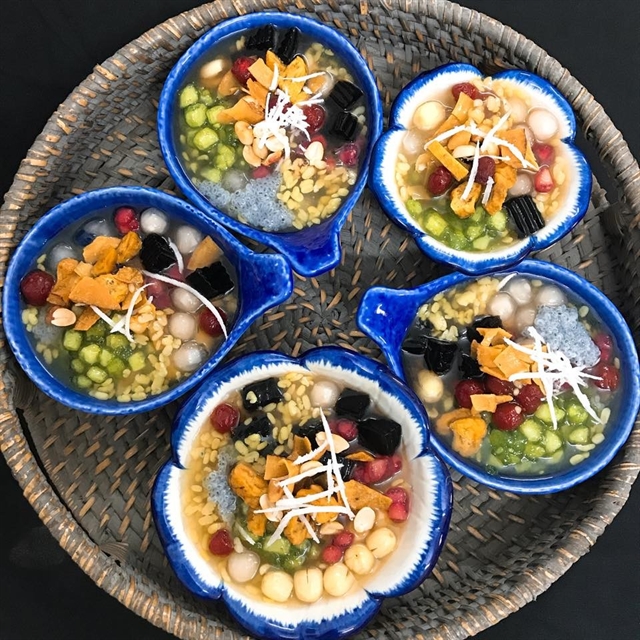 Some people will love to try a fusion of various types of sweet soup in one bowl. It's called chè thập cẩm. You can see a rainbow of colours as all your favourite chè are mixed together. — Photo vietfoodshop.vn
Some people love a fusion of various types of sweet soup in one bowl, called chè thập cẩm. 
My favourite topping is trân châu (literally translated as pearl). They look like pearls, but are in fact little round blobs of gelatinous rice, with a tiny chunk of coconut inside.
The dessert is not eye-catching only but brings joy for diners because they can try different textures and tastes at the same time. — VNS
Where to eat chè
Chè Bưởi, 18 Hai Bà Trưng St, Hoàn Kiếm District
Chè Thanh, 60 Vĩnh Hồ St, Đống Đa District
Chè Sài Gòn Thanh Tuyền, 57 Nguyễn Chí Thanh St, Ba Đình District
Chè Cát Thành, 2 Cát Linh St, Đống Đa District
Chè Tự Nhiên, 20 Quang Trung St, Hoàn Kiếm District
Chè Bốn Mùa, 4 Hàng Cân St, Hoàn Kiếm District
Chè Mười Sáu, 16 Ngô Thì Nhậm St, Hai Bà Trưng District