By Thúy Hằng
Most of my visits have been in the evening, when I have teamed up with some women from our group of singles, or for a date with a blue-eyed guy on a cool autumn night or a cosy birthday party for a close friend. My most recent visit to Salmonoid was for lunch to sample the restaurant's new summer menu.
As soon as we sat down, gossiping away, a waiter served bread and butter. More than a simple and popular appetiser, it is delicious sourdough bread served with citrus butter and adorned by purple Tasman sea salt (It is edible. If you want, you can enhance your taste with some flakes). I really like the fresh aroma of citrus zest from the butter and the sight of the seductive purple salt.
As I mentioned earlier, salmon is the major inspiration here, so the new menu would not be complete without salmon dishes.
Our second dish, another appetiser, is smoked salmon on a bed of cream cheese and avocado pureé. The Vietnamese elements, a small piece of bánh đa vừng (sesame-rice crisp) and few tía tô (perilla) leaves, bring the dish to a new level.
The third dish is salmon carpaccio. We were imagining a plate of thin slices of fish, but the slices were actually rolled up around arugula leaves, pickled capers and horseradish shavings. We enjoyed the rich and smooth fish combined with the other flavours, but all of us were most fascinated by the presentation. The pink salmon slices sit perched on black stones, in between decorative sprigs of leaves. A cloud of smoke hovering over the dish creates a dramatic visual effect, eliciting a collective "wow" when it was placed on the table.
Our lunch continues with confit salmon with smoked oil. I ignored the cauliflower mash served with the fish because I wanted to enjoy the unadulterated taste of the salmon. It is unbelievably soft and tender, melting in my mouth.
 Confit salmon with smoked oil. VNS Photo Thúy Hằng
Next, we were served the grilled salmon with young rice, marinated egg, and pickled cauliflower, which is not only a delectable dish but also a nice treat for our eyes. The black plate is a perfect background for the bright, colourful ingredients displayed on it – light brown grilled salmon, yellow quail egg, green young sticky rice and cauliflower coloured pink by beetroot juice. The dish really looks like a painting.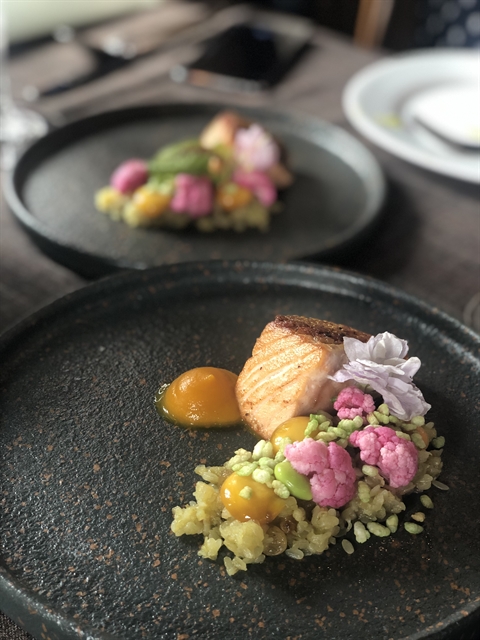 Grilled salmon with young rice, marinated egg and pickled cauliflower. VNS Photo Thúy Hằng
After several light but satisfying fish dishes, our lunch turned to meat – Iberico pork with corn, deep-fried rice and carrot puree and Australian short rib with tamarind sauce and garlic bread.
The five bite-sized pieces of pork sitting on a boiled ear of corn were grilled perfectly, retaining their light pink colour. A few pieces of torched corn topped the pork and formed a perfect harmony with the grilled meat. I enjoyed the crackling as I chewed on these pieces.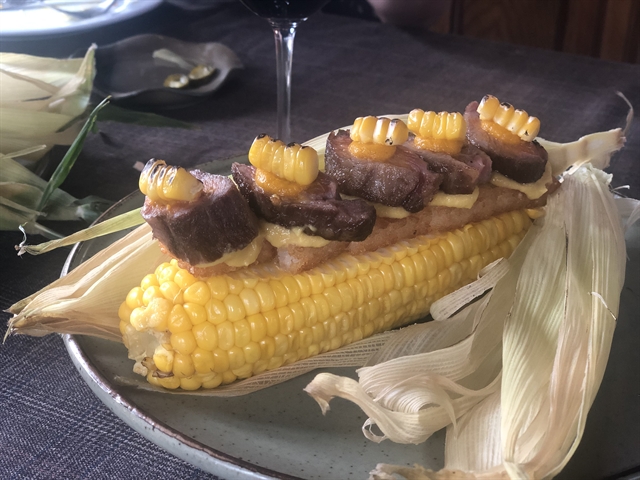 Iberico pork with corn, rice crisp and carrot puree. VNS Photo Thúy Hằng
However, I am not a fan of the cumin smell in the carrot puree – I think the dish would be better without it. For me, it is reminiscent of a sweaty person who has not taken a shower for a long time.
The short rib with tamarind sauce and garlic bread is a pleasing dish. The sweet and sour taste of tamarind balances the succulent, meaty rib. However, by this point I just wanted the lunch to end because I couldn't eat any more.
Luckily, the menu finishes with some homemade ice cream – a happy ending for our palatable lunch. VNS
Salmonoid Restaurant
Address: 32C Cao Bá Quát, Ba Đình, Hà Nội
Hours: 10am-2pm & 5.30-9.30pm
Tel: +84 24 3200 0628
Price: VNĐ880,000 for the eight-course set tasting menu for two
Comment: Creative and delicious fusion food at an affordable price. The restaurant offers different set menus and a-la-carte. A table on the rooftop can enhance the dreamy atmosphere of your dinner.